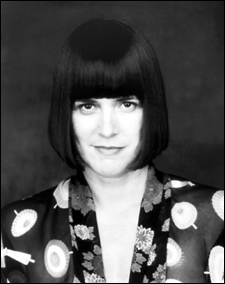 Obie Award-winning playwright Eve Ensler comes to the Radcliffe Institute for Advanced Study Thursday (Dec. 11) to discuss the activism that's sprung from her acclaimed drama "The Vagina Monologues." In this lecture, called "Vagina Warriors: An Emerging Paradigm, An Emerging Species," Ensler will outline the unique qualities of activists she calls Vagina Warriors, and how they have filled her with awe and inspiration.
Traveling the planet, Ensler has been moved by the vision, bravery, and activism of women who have faced violence and abuse. "At first I thought this was just a rare group of individuals, specific women who had been violated or witnessed so much suffering they had no choice but to act," she writes. "But after five years of traveling, 40 countries later a pattern has emerged, an evolving species. Vagina Warriors are everywhere. In a time of escalating and explosive violence on the planet, these Warriors are fostering a new paradigm."
Ensler's lecture, at 4 p.m. at the Askwith Lecture Hall in Longfellow Hall, is the Radcliffe Institute's annual Maurine and Robert Rothschild Lecture.
For more information, visit http://www.radcliffe.edu/events/lectures/.