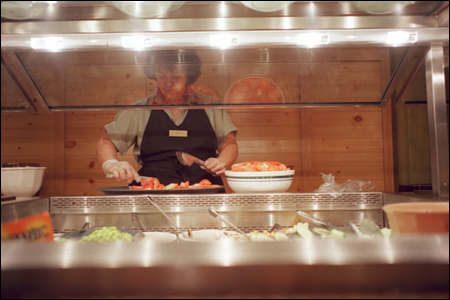 On a chilly Wednesday evening in November, Cabot House's dining hall glows bright across the quiet Radcliffe Quad. Inside, an otherwise ordinary midweek meal sparkles with flowers, banners, flashbulbs, and Latin music. At the center of the hubbub, surrounded by students who clamor for hugs, Maria Guerrero, who has worked for Harvard University Dining Services (HUDS) at the Quad for three years, sits in near silence, alternately – sometimes simultaneously – grinning widely and weeping freely.
"I'm speechless. I don't have enough words," says Guerrero of the going-away bash in her honor, her jumble of emotions far exceeding her capacity to express them in English, her second language. "They make my life different. I love my kids."
Words are not all Guerrero lacks. A native of El Salvador and single mother to Ericka, 16, and Karen, 11, Guerrero also wishes she had more time to spend with her daughters, with whom she shares a one-bedroom apartment. But she works two jobs to provide for their present needs and future dreams. They are her only family nearby; apart from one brother in California, the rest of her family remains in El Salvador.
But at Harvard, Guerrero has her "kids" – the Cabot House students and tutors with whom she shares conversation as she serves their pasta or tidies their salad bar. And she has a cozy circle of friends and advocates in her dining services colleagues.
Maria Guerrero has something else that distinguishes her: undifferentiated sinonasal adenocarcinoma. As the cancer spreads throughout her 36-year-old body, Guerrero's faith and optimism temper her fear and sadness. "I don't have family here, but I have a lot of friends, very good friends," she says. "God sends these people. He's looking out for me."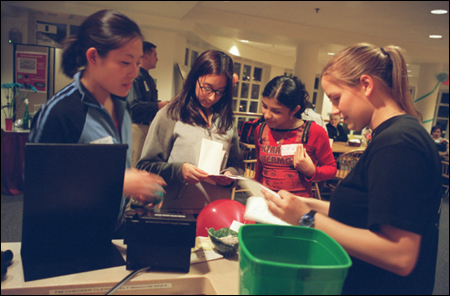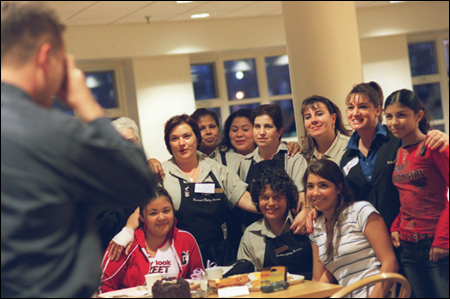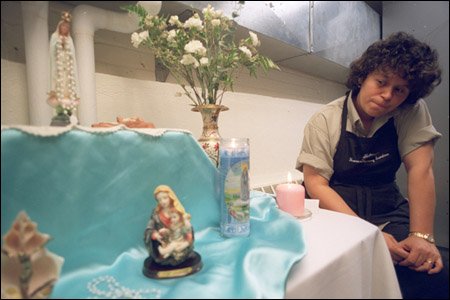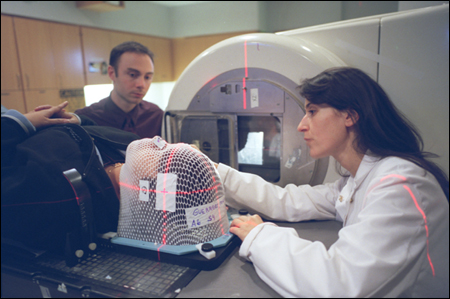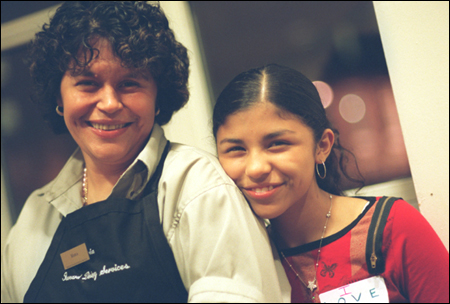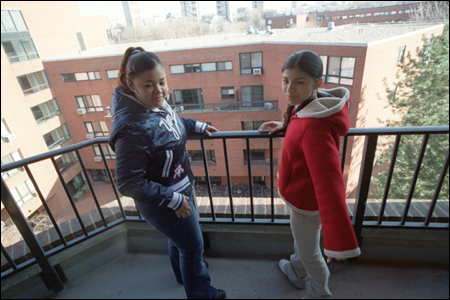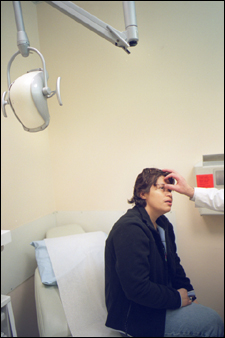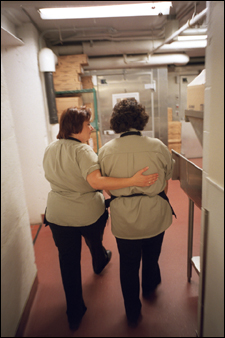 A bond over late-night snacks
Guerrero's cancer battle began in the spring of 2002 after years of headaches. That summer, Guerrero took a leave from her position as a night clerk at Celeris, the HUDS convenience store at the Quad, to undergo surgery to remove a tumor from her jaw.
Like many Quadlings, Cabot House resident Kristy Benoit '04 first met Guerrero over late-night runs to Celeris. "I got to know her from going down every night for snacks," she says. When she learned of Guerrero's cancer, Benoit used the Cabot House e-mail list to spread Guerrero's story and gather services for her. The response, she recalls, was overwhelming.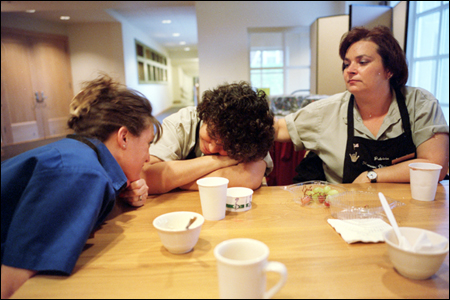 Spanish-speaking students accompanied Guerrero to doctor's appointments and donations filled boxes in Cabot, Pforzheimer, and Currier houses. One student helped arrange a visa so Guerrero's sister could visit from El Salvador.
With her cancer in remission, Guerrero returned to Harvard, this time to the Cabot House dining hall, later in 2002. But this past fall, her illness has returned with vigor, sending her back to treatment. Once again, her "kids" were there.
"The students have been so good to her," says Anabela Pappas, who also works in the Cabot House dining hall and is one of Guerrero's closest friends and strongest supporters. Pappas and Guerrero list ways the entire Cabot House community – and beyond – have rallied around Guerrero to ease her struggles.
Benoit organized a card campaign that flooded Guerrero's mailbox with well wishes from Cabot House students. Cabot House tutor David Soskin, a student at Harvard Medical School, negotiated sought-after care at Dana Farber Cancer Institute.
Dustin Saldarriaga '06, a leader of the Boston Refugee Youth Enrichment (BRYE) program through Phillips Brooks House Association, swept Guerrero's daughter Karen into his group's activities, infusing her otherwise challenging life with kid-friendly fun like pizza parties and Saturday afternoon matinees. "Maria told me that Karen absolutely loves it and that she looks forward to it every week," says Saldarriaga.
In a corner of the ladies' locker room in the Cabot House dining hall, where Guerrero would sneak off to pray on her breaks, Pappas and her colleagues assembled a shrine with candles, religious statues, and flowers. Although Guerrero's two jobs often keep her from attending church, she holds her deep faith close. "I believe in my God and I'm praying like never in my life," she says. "When you're on your knees, everything bad goes away."
And several weeks ago, Guerrero and her daughters moved into Harvard's Soldiers Field Park, adjacent to the Harvard Business School; Pappas worked with HUDS management and Harvard Real Estate Services to secure an apartment large enough to give Guerrero comfort and privacy that, she hopes, shelter Ericka and Karen from the worst of her pain. Friends, colleagues, and Cabot House personnel not only donated furniture but helped move the family in, as well.
'God has blessed me so much'
While Guerrero's illness has clearly touched a nerve in Cabot House, several point out that the generous spirit of the Harvard community is not unique to her situation. Harvard University Dining Services executive director Ted Mayer notes that students, masters, and co-workers in Eliot House raised thousands of dollars for dining services worker Marina Gerolimatos, who lost her apartment in a fire. Mayer credits the house system for fostering a spirit of community that bridges ages and roles. "The students are just incredibly responsive to the staff," he says.
While their instincts are altruistic, students acknowledge that such generosity has its benefits. "Getting to know Maria, and Karen too, has really inspired me," says Saldarriaga. "It's really added a lot to my experience here in Cabot House."
For Benoit, Guerrero has provided a fresh outlook on a Harvard experience that might otherwise be sheltered by privilege and good fortune. "She's an amazing person. She'll never complain," says Benoit. "She'll always say, 'God has blessed me so much, I have so much to be thankful for.' After all she's been through, it puts things in perspective."
Basking in the loving attention of her "kids" at her going-away party, Guerrero's warm smile and glowing optimism belie the gravity of her illness. Yet as cancer spreads through her body and she prepares to undergo more chemotherapy and radiation, she admits that she's frightened. "I'm very tired, sad, very afraid about my kids," she says, referring not to her Harvard brood but to Ericka and Karen. "I want to see my kids growing up." Tears, once fought back, flow freely as students and tutors gather around her.
"I can never say thank you enough to these people. The students are the best part of this university," she says. "God can't be here to help me, so he sent all of these angels."