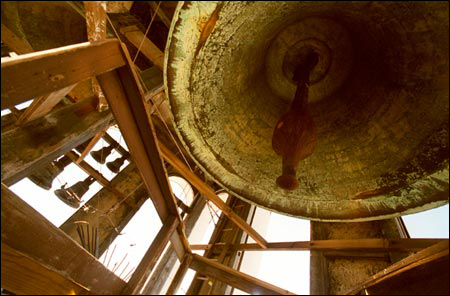 On Dec. 4-8, 2003, representatives of Harvard University and members of a Russian delegation headed by the Father Superior of the Moscow St. Daniel Monastery met to discuss the future of the bells from the monastery that have hung in the Lowell House bell tower at Harvard University since 1930 when they were sold by the Soviet government. The Russian delegation acknowledged Harvard's legal ownership of the bells and expressed its gratitude for the preservation of these bells. The discussions were cordial and constructive.
Both sides acknowledge that the bells are cherished by the students and faculty of Lowell House and play an important part in the life of Harvard University. We also acknowledge that the bells are part of Russia's spiritual and cultural heritage and have a deep spiritual significance for the monks, priests, and parishioners of the Danilov Monastery and the Russian government and its people.
The parties have agreed, therefore, that it is necessary and timely to settle the question of the return of these bells to the Danilov Monastery. The first step in this process will be to conduct an architectural and structural study to determine the feasibility and projected construction cost of removing and replacing the bells. This study will be undertaken at Harvard's expense. Upon completion of this analysis and a favorable assessment of the possibility of going forward with this project, the two parties will resume discussion. Further costs such as construction, transportation, and bell-replacement would be borne by the Russian side.
The parties enjoyed the chance to meet, to get to know each other, and to discuss this important matter. We look forward to continued cooperation and fruitful discussion.
Members of the Russian Delegation:
Archimandrite Aleksey, Father Superior, Danilov Monastery
Hierodeacon Roman, Chief Bellringer, Danilov Monastery
Marina N. Belogubova, Director, Department of Public and Religious Relations, Office of the Plenipotentiary Representative of the President of the Russian Federation to the Central Federal District of Russia
Father Alexander Abramov, Representative of the Moscow Patriarchate in New York
Aleksy Rogov, Vice Consul for Cultural Affairs, Consulate General of the Russian Federation
Representatives of Harvard University:
Alan J. Stone, Vice President for Government, Community and Public Affairs
Benedict Gross, Dean of Harvard College
Frank Conners, Office of the General Counsel
Diana L. Eck, Master of Lowell House