Harvard University announced today (Dec. 11) that it is launching a new summer program for academically talented high school students from financially disadvantaged backgrounds. Students will come to Harvard from public and parochial schools in Boston and Cambridge to participate in an intensive summer program focused on academic and personal development. Each student will participate for three successive summers, beginning after ninth grade, with mentoring throughout the school year.
The Crimson Summer Academy will host its first cohort of 30 students next summer (2004), for a four-week session that will include a rigorous mix of classes, workshops, projects, and field trips, as well as college planning, career apprenticeships, and guest speakers drawn from Harvard's faculty. Through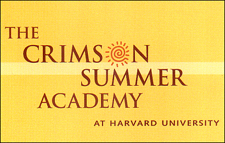 close mentor relationships, small group instruction, and sustained academic support, the program seeks to encourage talented students to expand their vision of what's possible and strengthen their ability to achieve ambitious academic and life goals.
"This is an enormously exciting opportunity for some of the most talented students in the Boston schools," said Boston Mayor Thomas M. Menino. "This kind of sustained and personalized investment in our youth will help them achieve their full potential. Harvard deserves credit for recognizing how important it is to make academic opportunities available to talented, bright kids from all backgrounds."
"It is easy to take for granted the array of help and support that many of our students receive from their families, communities, and financially well-supported schools," said Harvard President Lawrence H. Summers. "But not all students have these advantages. We are very excited about this opportunity to work with talented students from our local communities in an academically rigorous and culturally rich program."
Harvard will provide students with full financial support for all aspects of the program, including daily round-trip public transportation to Cambridge, meals, and medical insurance. Students will also receive a stipend to replace summer earnings. Students who successfully complete all three summers will be awarded a $3,000 scholarship for use at the college or university of their choice.
"We want students from all financial backgrounds to have access to programs that will strengthen their academic skills and motivate them to aim high in life," said Summers. "College should be a reality for all talented students, regardless of their financial circumstances, and it is our goal as a leading university to help schools open the doors of opportunity to every student."
Cambridge Mayor Michael A. Sullivan remarked: "Offering the Crimson Summer Academy experience will be an enormous benefit to students and their families. Many talented students are not able to participate in this type of summer enrichment program because of financial pressures at home. This program promises to open a whole new world of possibilities to our students."
Students who successfully complete the academy's four-week session in 2004 will be invited to return for six weeks the following summer. In the third summer, Crimson Scholars will earn college credit by taking a course at the eight-week Harvard Summer School while maintaining their affiliation with the Crimson Summer Academy and participating in its cultural activities. Each year, Harvard will bring a new cohort of high school sophomores to campus to begin the three-year experience.
The curriculum of the academy focuses on citizenship in the 21st century and, more specifically, on what it means to be a responsible American in an interconnected world. Crimson Scholars will engage with fundamental ideas in different fields of inquiry – they will read and write about issues of vital concern to their lives and their communities; learn to think quantitatively; explore science and technology; and reason through important social and ethical questions posed by history and literature, the arts, and contemporary life. The curriculum will be progressive – i.e. each returning class will build upon the previous summer's curriculum. The program will also include college planning and career awareness components.
Maintaining communication with the students throughout the academic year is a central feature of Harvard's program. Mentoring relationships between Harvard students and Crimson Scholars will be established during the summers and will continue throughout the school year.
Prospective students will be nominated by their school principals, teachers, guidance counselors, or other adults familiar with their academic and personal potential during January and February 2004. Final selections will be made in April by the Crimson Summer Academy Admissions Committee, based on the nomination packet, the student's written application, and individual interviews. The Academy's inaugural summer session will run from July 7 to Aug. 6, 2004.
Maxine Rodburg, the director of the Harvard Writing Center and a senior preceptor with Harvard's Expository Writing Program, directs the Crimson Summer Academy. She will work with the dean of the Harvard Summer School, Robert A. Lue, and the Academy's Advisory Board of more than 20 Harvard faculty and administrators to oversee the program.
"Our hope is that Harvard's individualized commitment to the Crimson Scholars will have a lasting impact on their lives, the schools they attend, and the communities they live in," said Rodburg.
The Crimson Summer Academy is one of nearly 100 academic and cultural enrichment programs for school-aged children in Cambridge and Boston. The Cambridge Harvard Summer Academy, a partnership between Cambridge public schools and the Harvard Graduate School of Education, provides 400 Cambridge high school students with summer academic enrichment each year. The Harvard After School Initiative is directing $5 million and Harvard's human resources to support Menino's efforts to expand and enhance after-school education. Other collaborations provide professional development for teachers, services for schools, and academic mentoring and cultural enrichment activities for public school students.