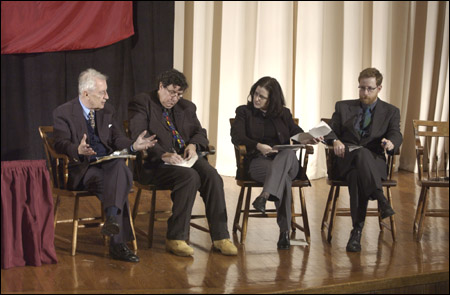 Moderator Roderick MacFarquhar, Anthony Saich, Regina Abrami, and Alastair Iain Johnston participated in the faculty panel on China that preceded yesterday's (Dec. 10) visit of China's Premier Wen Jiabao.
More stories and photos
---
The panel discussed some of the issues facing China and how the country's leadership might deal with them. On the international front, the topics included the impact of President Bush's speech Dec. 9 warning Taiwan not to disturb the status quo by holding a referendum on the question of independence; the extent of China's behind-the-scenes efforts to ease the standoff between the United States and North Korea; whether the West should be worried about China's rising power in global politics; and whether there should be a change in the convertibility rate between the yuan and the dollar.
On the domestic front, the panel discussed whether economic inequality within China will undermine social stability; whether China can manage the contradictions between communism and private enterprise; and whether the expense of dealing with health crises like AIDS and SARS will force China to withdraw funds from other projects, such as its fledgling space program.