More stories and photos
---
Capping his first-ever visit to the United States with a talk at Harvard University yesterday (Dec. 10), Wen Jiabao, premier of the People's Republic of China, drew upon China's rich cultural past and current atmosphere of openness to predict a bright future of development, economic wealth, and democracy.
To understand China, he told the audience of Harvard students, faculty, staff, and invited dignitaries, "it is necessary to get to know her yesterday, her today, and her tomorrow." Wen's speech, in Burden Hall on the Harvard Business School campus, was simultaneously translated from Mandarin into English.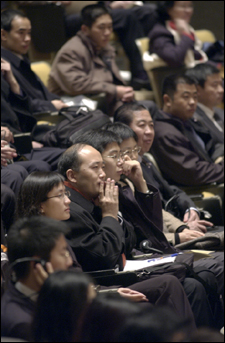 Illustrating his theme of cross-cultural understanding and respect, Wen quoted Western philosophers and poets, including Voltaire, Kant, Emerson, and U.S. Presidents Thomas Jefferson and Franklin Roosevelt. "Reading the words of Voltaire and Emerson today, I cannot but admire their vision and foresight," he said. The principles of populism and democracy run through Chinese culture as far back as Confucius, he added.
"China today is a country in reform and opening up and a rising power dedicated to peace," he said.
Wen pitched his remarks toward the many students in the audience, who received tickets to the event via lottery. In his opening remarks, Harvard President Lawrence H. Summers said that Harvard has 350 Chinese students; it seemed that many of them, identifiable by laughter that preceded the English translation of some of Wen's remarks, attended the event and waved the flag of their homeland in support.
"I hope the young people of China and the young people of the United States will join their hands more closely," Wen said. "I hope the young people in this country will turn their eyes to China."
Moving toward modernity, development
As premier, the third highest-ranking official in the Politburo Standing Committee of the Communist Party of China hierarchy, Wen – an engineer by training – oversees the country's economic reforms. He outlined a strategy for modernization that would raise China's level of development significantly by its centenary in 2049.
He stressed that the nation's large population of 1.3 billion and its yet-underdeveloped status continue to define it. "Any small individual problem multiplied by 1.3 billion becomes a big, big problem," he said. "This is a reality that China's leaders have to keep firmly in mind at all times."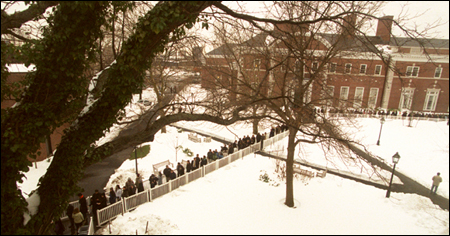 Describing "extensive and profound changes never seen in China before," Wen said that the nation is working to become a socialist market economy and, with the lifting of restrictions on its citizens' mobility, faith, travel, lifestyles, and enterprise, is embracing democratic ideals. "Each and every step forward is designed, in the final analysis, to release the gushing vitality of labor, knowledge, technology, managerial expertise, and capital, and allow all sources of social wealth to flow to the fullest extent," he said.
Wen repeatedly credited China's economic growth to its policies of reform and opening up, noting that many Chinese now enjoy a comfortable standard of living and some regions of China, particularly the cities on its southeast coast, have surged toward modernity with skyscrapers, traffic, and glittering lights. Still, the rural areas of central and western China remain backwards, and the premier said he's torn with anxiety when he ponders the poverty in which millions of farmers and urban poor continue to live.
"For China to reach the level of developed countries, it will still take the sustained hard work of several generations, a dozen generations, or even dozens of generations," he said.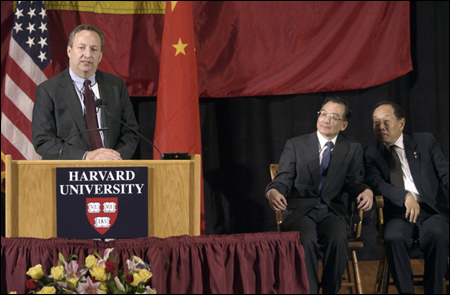 Wen was upbeat, however, about the wealth of China's large labor pool, which must be protected to avoid a fate akin to some of the less fortunate characters of Charles Dickens, and its brand of socialism, which he called "brimming with vigor and vitality."
Promoting human rights
While he largely avoided some of the hot-button issues that have dominated his four-day visit to the U.S. – Taiwan and China's trade imbalance with the U.S. – Wen addressed his nation's controversial human rights record head-on.
"China's reform and opening up is aimed at promoting human rights in China. The two are mutually dependent," he said, conceding, "I'm not suggesting that China's human rights situation is impeccable."
Prior to those remarks, a lone protester was escorted from the hall for interrupting Wen's speech with a statement against China's occupation of Tibet. Two additional protestors, who stood in silence, remained in the hall throughout the speech. Yet Wen, who has a reputation as a self-effacing man of the people, had already gained the support of the audience with warm and personal anecdotes that illustrated his humble upbringing and conveyed his genuine affection for students and youth.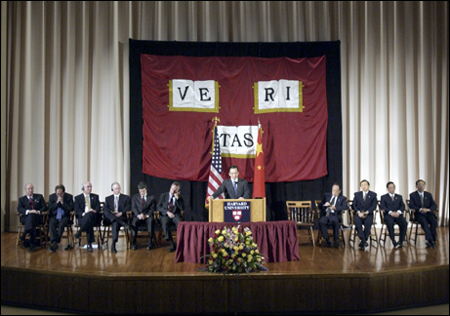 Dean of the Faculty of Arts and Sciences William C. Kirby, a scholar of Chinese history, fielded three questions (one submitted in advance and two from audience members) for Wen. After expanding on China's development of democracy in response to the first question, the premier addressed the audience directly. "People sometimes have mixed feelings about giving a speech at Harvard," he said, noting the obvious appeal of its shining intellectual resources. "But they know from the faculty and students there will be tough questions."
And indeed, David Wilson '06 pressed the premier to outline the steps China will take to encourage American trade into China. Wen discussed several proposals he made Tuesday to President Bush on the subject and noted that trade delegations from China had made major purchases from U.S. firms Boeing and General Electric. "We should not turn trade issues into political ones," he cautioned.
As the audience of nearly 800 filed out of Burden Hall, the buzz on Premier Wen's speech was generally positive. "He seems quite amiable as a premier," said Li Li, a doctoral student at Harvard Business School and a native of China. She had followed his U.S. tour and felt his Harvard speech reinforced the position he had been stating for the past few days. "As a business school student, I would rather he spoke more about the reforms going on in China, which are quite challenging," she added. "But in general, it was a very satisfying address."
Premier Wen's visit to Harvard was hosted by the Office of the President; the Harvard University Asia Center, which supported the visit through the Dora and YL Yang Fund; and the Fairbank Center for East Asian Research. It came at the end of a four-day trip to the U.S. Wen visited New York Monday, where he met with Mayor Michael Bloomberg and business executives; and he met with President George W. Bush at the White House Tuesday to discuss Taiwan, terrorism, and trade relations.