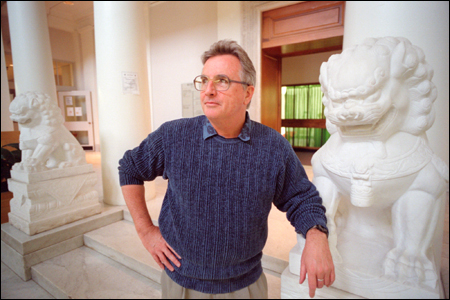 In many ways, Australia and the United States seem mirror images of one another.
Both were discovered by Europeans rather recently in human history. Both became British colonies. Both have evolved into prosperous, multiethnic societies. And in both, Europeans displaced native peoples who had occupied their respective continents for many thousands of years.
Timothy Rowse, from the Australian National University, is the 2003-04 holder of the Visiting Chair in Australian Studies. He has much to teach the Harvard community about relationships between white colonists and Australian Aborigines. He is also interested in learning more about relations between Native Americans and the Europeans who colonized their land in the hope of deepening his understanding of both histories.
"Broadly speaking, the Australian government employed the same sequence of policy ideas as the United States, but one generation behind," he said.
---
'In many places, it would be normal for a child to wake up in one household and go to sleep in another and perhaps the next night go to sleep in a third, and in each house he would have close kin. There's a great deal of passing around of children …'
– Timothy Rowse, Holder of the Visiting Chair in Australian Studies
---
Of course, he points out, there are important differences, too. The encounter between Native Americans and Europeans has a longer history than that between Europeans and Native Australians. Aborigines did not have the advantage of the 17th and 18th century rivalry between France and England for colonial dominance, which enabled diplomatic initiatives by the Native North American tribes. And while the Aborigines fought back, they did not match the heights of the Native Americans' armed resistance.
But in both cases, the colonizing government found native peoples difficult to manage, even after the frontier fighting had resulted in the "pacification."
"The Aborigines have always proven very difficult to govern. It's always been hard to make them cooperate with programs that are considered to be for their benefit. They don't seem to follow our scripts for self-determination, and nowadays we don't seem to be able to decide whether to describe that quality in positive or negative terms, as resistance or dysfunctionality."
Rowse has been studying Aborigines for more than two decades and is considered one of the foremost experts on the subject of their history as a colonized people. Fellow Australian Harold Bolitho, professor of Japanese history and chair of the Australian Studies Committee, calls Rowse "a major Australian public intellectual. He's a very prolific and wide-ranging thinker. I'm not certain there's any aspect of Aboriginal life he hasn't touched on, whether art, anthropology, sociology, public health. He also has very close personal connections with the Aborigines of the Northern Territory."
Rowse points out, however, that he has never succeeded in learning an Aboriginallanguage. Rowse spent about 10 years living among the Aborigines in the vicinity of Alice Springs, where his work brought him into many different kinds of contact with Aborigines. He researched his Ph.D. dissertation in anthropology at Sydney University, and later worked with organizations that interacted with the Aborigines and in some cases were directed by Aborigines. As a Ph.D. student, he investigated the transition from a welfare system that distributed food and clothing to the Aborigines to one that gave cash payments. His dissertation, "White Flour, White Power?" was published in 1998.
What Rowse found was an effort by the government to reconstruct the Aboriginal domestic group to make it look more like a Western nuclear family. There were good reasons for this preference. Since the 19th century, Western societies have focused on the nuclear family as the key unit of such things as education and public health. But in many respects, Aboriginal social structure is not amenable to British-Australian ideals of domestic order.
"In many places, it would be normal for a child to wake up in one household and go to sleep in another and perhaps the next night go to sleep in a third, and in each house he would have close kin. There's a great deal of passing around of children, a sort of social fluidity, but something like that can make it very hard for a kid to do his homework," Rowse said.
But not all the interactions between the Aborigines and the government have been at cross-purposes. During the 1950s and '60s, Aborigines conducted their own civil rights movement, paralleling and inspired by the movement among African Americans in the United States. As in the United States, the federal government put pressure on the states to repeal anti-discrimination legislation, and in both countries, liberal whites helped the disadvantaged groups to achieve their goals.
Another victory for Aborigines occurred in the Northern Territory over the issue of land rights with the passing of federal legislation in 1977. The ownership of the world famous "Uluru" (Ayers Rock), for example, was resolved in 1986 in the Aborigines' favor. Today, the Anangu Aborigines lease this tourist magnet back to the government and manage the surrounding park jointly.
"This is one place where the struggle to govern the Aborigines has produced institutional innovation," said Rowse.
Rowse is currently exploring the history of these policy issues in a course called "Governing Indigenous Australians." In the spring, he will teach another course, titled "Australian Indigenous Autobiography," in which students will read a selection of autobiographies by Aboriginal writers in an effort to better understand the history of the country from an indigenous perspective. The reading list will include the best-selling "My Place" by writer and artist Sally Morgan, and "Black Hours" by Wayne King, a gay man who tells of his life as an Aborigine who has had an international career with the United Nations.
Through his contact with Aborigines, both as a researcher and a friend, Rowse has developed an in-depth knowledge of these fascinating and complex people and their relations with Rowse's own people, the mostly British latecomers who colonized them. Without overlooking their debilitating social and economic problems, he remains mindful of the spiritual and cultural resources that have sustained them in their precipitous transition to the modern world.
"When you work with Aborigines over a long period of time, you realize that they have a great sense of humor that doesn't often come through in public discourse, and they have a humanity that inspires confidence."