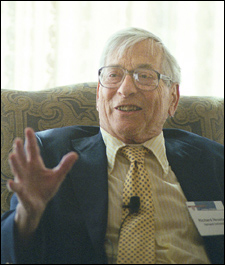 Richard E. Neustadt, Douglas Dillon Professor of Government Emeritus at Harvard's Kennedy School of Government and eminent presidential scholar and former adviser to three U.S. presidents, is being remembered fondly by former colleagues as a guiding force in Kennedy School history. Neustadt passed away in England on Friday (Oct. 31) at age 84.
Neustadt, who had been a professor of government at Columbia University and a consultant to the Truman, Kennedy, and Johnson administrations, was selected to serve as the founding director of the Institute of Politics (IOP) in 1965. He became a forceful leader for the IOP, forming a Senior Advisory Committee comprising such well-respected political figures as the late president's brother and widow, Robert F. Kennedy and Jacqueline Kennedy, Washington Post publisher Katharine Graham, Secretary of Defense Robert McNamara, and Sen. Henry M. Jackson, (D-Wash.). Neustadt is also credited with developing the IOP Fellows program that has brought many top political minds to Cambridge over the past 25 years.
Neustadt's role at Harvard extended far beyond the IOP, however, as he became one of the principal architects of the Kennedy School's early development. He collaborated closely with Dean Don K. Price to articulate the Kennedy School's mission, to hire its faculty, and to design and build the new graduate school campus along the banks of the Charles River. He forged relationships with academics, administrators, political figures, and students to make the School an engaging and meaningful place.
Kennedy School Dean Joseph S. Nye Jr. spoke of Neustadt's significant contribution to the School. "Professor Neustadt was one of our 'founding fathers.' He and a handful of other dedicated scholars provided the intellectual guidance and vision needed to mold this small School into an eminent academic institution. He was also one of our most valuable emeritus professors. He provided students with a deep understanding of the American presidency, greater than any other faculty member could have, from his own experiences in the White House."
One of Neustadt's outstanding achievements was the development of a research agenda for the Kennedy School. He would meet weekly with several core faculty members and others, including economist Francis Bator (who would later become a professor at the Kennedy School) and Harry Rowen, former chairman of the National Intelligence Council and former president of the RAND Corp. In 1968, Neustadt drafted the proposal for a new curriculum and a refined degree program for the School.
"Without Dick Neustadt, the Kennedy School simply would not exist," said Graham Allison, director of the Kennedy School's Belfer Center for Science and International Affairs and former dean of the School. "Dick towered above all other 20th century students of the American presidency. He was a dedicated teacher, a devoted mentor, and a wonderful friend. As the Kennedy School, Harvard, and the nation mourn his passing, we are grateful for his imaginative and energetic investment of himself in creating so many of the opportunities we enjoy today."
"Dick Neustadt embodied the mission of the Kennedy School," said Ernest R. May, Charles R. Warren Professor of American History. "No one tried harder to develop scholarship and teaching that would be of actual use to men and women trying to govern. No one had more empathy with real politicians. A wise and astute observer of government on both sides of the Atlantic, a masterful writer, and a warm and caring teacher, he will continue to influence public service for a very long time to come."
Neustadt's highly acclaimed book examining the decision-making process at the highest levels of government was first published in 1960 under the title "Presidential Power." The book was later revised and republished in 1990 with the title "Presidential Power and the Modern Presidents: The Politics of Leadership From Roosevelt to Reagan." In a 1990 review, the Washington Post lauded the book as a "central historical document describing the final moments of the liberal hegemony that endured from 1930 to 1965" and remarked that "Neustadt's contribution to the understanding of the presidency remains brilliant."
Neustadt also authored "Alliance Politics" (1970), "Thinking in Time" (with Ernest R. May, 1986), "Report to JFK" (1999), and "Preparing to Be President" (2000). He also wrote and published numerous articles and won several prestigious awards, including the American Political Science Association's Woodrow Wilson Award, the association's Charles E. Merriam Award, and its Hubert H. Humphrey Award.
Neustadt was born June 26, 1919. He earned his bachelor's degree at the University of California, Berkeley, and his master's degree and his doctorate at Harvard. He served as director of the IOP until 1971 and as associate dean of the Kennedy School until 1975. He lived in Cape Cod and Great Britain and is survived by his second wife, British politician Shirley Williams, public service professor of electoral politics emeritus.