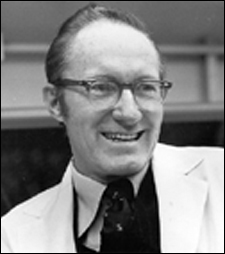 The professions of medicine, otolaryngology, and head and neck surgery have lost a giant in the passing of William Wayne Montgomery, said Joseph B. Nadol Jr., Walter Augustus Lecompte Professor of Otology and Laryngology at Harvard Medical School (HMS).
Montgomery, 80, who would later be known internationally for his contributions to medicine and surgery, died on Nov. 7. Born in Proctor, Vt., on Aug. 20, 1923, Montgomery received his A.B. from Middlebury College in 1944 and his M.D. in 1947 from the University of Vermont Medical School, Burlington. He then served his internship in general surgery at the Mary Fletcher Hospital in Burlington. He had a general practice of medicine and surgery in West Rutland, Vt., from 1948 to 1950. With the outbreak of the Korean War he served as a battalion surgeon from 1950 to 1952 in the U.S. Navy, which he later described in the memoir titled "The Mustache That Walks Like a Man," published in 1995. Montgomery was awarded a Purple Heart and Bronze Star with Valor.
After the war, he became a resident in otolaryngology at HMS and the Massachusetts Eye and Ear Infirmary from 1952 to 1955 and then joined the faculty at the School. He was appointed professor of otology and laryngology in 1970 and the John W. Merriam Professor of Otology and Laryngology in 1993.
His professional career is internationally recognized. He was the author of more than 180 publications on a wide variety of subjects. Perhaps his most influential publication was "Surgery of the Upper Respiratory System," which saw three editions. He held leadership roles in the Triologic Society, and he served as president of the New England Otolaryngological Society. He was the recipient of the Harris P. Mosher Memorial Award from the Triological Society, a Presidential Citation from the American Academy of Otolaryngology-Head and Neck Surgery in 1984, the Newcombe Award from the American Laryngologic Association in 1990, and the Chevalier Jackson Award from the American Bronchoesophagologic Society in 1991. He retired from clinical practice in May 2002, but continued to serve actively as a teacher and researcher in an effort to develop better techniques in the management of the compromised airway.
In 1998, many of those whose lives had been positively influenced by the career of Professor Montgomery met for a festschrift in his honor, said Nadol, who is head of the Department of Otology-Laryngology at Massachusetts Eye and Ear Infirmary.
"Most of us knew him in several capacities: as a mentor, colleague, faculty member, and personal friend," Nadol continued. "In addition to his professional life, Monty had several interests, including the outdoors, gardening, and general self-sufficiency. He particularly enjoyed hiking, snowshoeing, woodcarving, photography, skiing, and tennis. What stands out most in thinking about his career are his spectacular contributions to the profession and his rather unique personal traits."
In otolaryngology, according to Nadol, Montgomery made seminal contributions to most of the subspecialty areas: to otology and neurotology, his erudite papers on acoustic neuroma and spinal fluid leak; to cranial base surgery, his discussions of the pterygomaxillary fossa, transethmoidal hypophysectomy; to head and neck surgery, his papers on reconstruction of the cervical esophagus, repair of tracheo-esophageal fistula, and invention of the salivary bypass tube; to pediatric otolaryngology, his important contributions to the management of laryngotracheal stenosis and the invention of T-tube and keel; to general otolaryngology, the popularization of the osteoplastic frontal sinus obliteration; to laryngology, his contributions to the understanding of cricoarytenoid arthritis, and management of chronic aspiration and thyroplasty.
"Any one of us would have been proud to have contributed what he did in any one area," said Nadol. "He accomplished a truly remarkable feat and has significantly shaped contemporary otolaryngology in each and every one of these areas. His magnum opus, "Surgery of the Upper Respiratory System," clearly outlines the breadth of his contributions to our profession.
"Equally important were his personal traits, which included ingenuity and the capacity for innovation. He had an uncanny sense for what would work and what would not, both surgically and nonsurgically. He had true surgical talents, both in the medical field and with wood as an accomplished wood carver and craftsman.
"He had a genuine and abiding interest in the promotion and success of others," Nadol continued. "In this regard his humanistic qualities were recognized by patients, friends, and students alike. He was an extraordinary teacher and role model, and he captivated the imagination and admiration of several generations of residents. He was a sage adviser. Clinically, he was the 'go-to person' for any difficult problem. He was also capable of navigating the treacherous waters of medical politics."
Despite a stellar career, Montgomery continually demonstrated his personal humility and a low-key approach and gentleness.
"He was clearly the genuine article," Nadol said. "Those who knew him well knew his wry humor and his appreciation of the absurd. Despite his passing, his ingenuity, professional accomplishments, writings, and students will continue to contribute greatly to the well-being of our profession and our patients. We will miss him deeply, but his contributions will continue to guide us."
Montgomery is survived by his sister, Jane Montgomery of Chestnut Hill, Mass.; his sons Lynn Daniel Montgomery of Placitas, N.M., Scott William Montgomery of Addison, N.Y., Stuart Kelley Montgomery and his wife Diane Montgomery of Hopkinton, Mass., Leslie Ide Montgomery of Brattleboro, Vt., Robert Montgomery of Fairlee, Vt.; seven grandchildren, four nieces, and seven nephews.
A memorial service will be held at noon Nov. 22 in the Memorial Church in Harvard Yard. Relatives and friends are invited to attend. In lieu of flowers, memorial gifts may be made to the Massachusetts Eye and Ear Infirmary, 243 Charles St., Boston, MA 02114, Attn: Dr. William Montgomery Fellowship Fund.