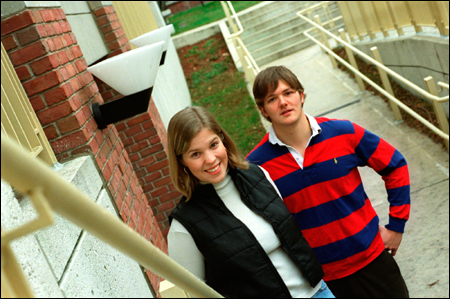 As she reflects on her years at Harvard, the moments that will be foremost on senior Alethea Murray's mind are those spent helping the homeless.
"I think of the shelter as my formative experience in college," said Murray, who for the past three and a half years has spent her free time, and the occasional night, at the Harvard Square Homeless Shelter. "This is more substantial than anything students usually do in their spare time. It has a tangible affect on people's lives, people who are struggling through extreme circumstances."
Murray is one of 14 student directors in charge of the Harvard Square Homeless Shelter, the only shelter in the nation run by college students. Tucked away in the basement of the University Lutheran Church on 66 Winthrop St., the lemon-yellow concrete-block bunker offers 25 men and women showers, lockers, cots in common bedrooms, a living room peppered with tables and chairs, and three meals each day.
What began as a few cots in a church basement two decades ago has turned into a well-organized community.
Last Sunday (Nov. 15), the shelter opened its doors for its 20th year of operation. Over the next five months, the bunker will be a home away from home for some 200 people – the homeless and Harvard student volunteers. For Cambridge residents faced with a night on the streets, it will be a haven in an emergency. Others, who are working to get themselves back on their feet in a city with some of the highest housing costs in the nation, will receive free housing as they work to save their money. Six Harvard students will spend the night there each day – talking with residents, playing a game of cards, or doing homework during the quiet hours and many others will drop by to clean or prepare meals, with food donated by Harvard Dining Services.
For the team of 30 student directors and supervisors who manage 150 student volunteers as they work their six-hour shift each week, oversee the shelter's security, maintenance, and supplies, and balance its budget, the shelter is a labor of love in the real world.
---
Harvard Square Homeless Shelter web site.
To direct your Community Gifts Through Harvard contributions to the Harvard Square Homeless Shelter, fill out PBHA-Harvard Square Homeless Shelter on the donation form. Call (617) 495-1598 for a pledge card.
---
"It is a very tangible thing," said Michael Thomas Whealy '05, a student director in charge of the finances. "When it is negative 10 degrees out, there are some people who just want a warm bed to sleep in. Others just want someone who will listen, or play a game."
Equally tangible is the responsibility that comes with the shelter.
"Finding funding is our biggest challenge," said Whealy, who must secure revenue at a time when budget cuts have capped emergency shelter funding from the state. In addition, the students are working off debt that the shelter took on when it completed a ground-to-ceiling renovation more than three years ago.
To help fill in funding gaps this year, Whealy is looking to the Community Gifts Through Harvard Campaign, through which Harvard faculty and staff can make direct donations to the shelter. In addition, the Phillips Brooks House Association and members of the church also offer assistance through donations or fundraising events, such as an upcoming gift basket auction at the Lutheran Church Nov. 30 and Dec. 7.
Funding is indeed the biggest challenge. But it is only the first. Being responsible for the lives of people in need who depend on these students for food and a haven is a reality that the shelter's directors do not take lightly.
"If ever there is the tiniest mistake, it can become huge when one's life is involved," said Murray, who noted that forgetting to book a bed for someone who calls ahead could mean a night on the streets.