For all the musing over the stadium's centennial this season, the outcome of Saturday's game against Dartmouth proved to be regrettably reminiscent. After all, it was Nov. 14, 1903, when the then Dartmouth Indians blanked the Crimson, 11-0, to break in the new stadium. And though the Crimson put up a good fight Nov. 1, 2003, the Big Green again played the spoiler, dropping Harvard on its big day, 30-16.
Recent history also seemed to repeat itself for the Crimson: namely, an inability to capitalize in the red zone. Like their four failed two-point conversion attempts against Princeton on Oct. 25, the Crimson twice failed to score within Dartmouth's 5-yard line. On top of that, Dartmouth's defense haunted Harvard all afternoon as the Big Green recorded five sacks, three interceptions, and a recovered fumble. Despite amassing 545 total yards (118 more than the Big Green), Harvard's lapses – including 100 yards in penalties – proved too costly.
The loss, the Crimson's first of the season, ends the team's six-game unbeaten streak (seven including the final game of the 2002 campaign), while Dartmouth, winners of three straight, improves to 3-4 overall (2-2 league).
---
Stadium story, historic videos, photos

Photo gallery: Harvard vs. Dartmouth 2003
---
Harvard struck first in the early going of the opening quarter when freshman tailback Clifton Dawson (167 rushing yards on 17 carries) visited the end zone on a 71-yard run. Dartmouth answered with a 20-yard touchdown pass from Hanover's high-flying quarterback Charles Rittgers (344 yards on 17 passes) to close out the quarter.
The Crimson recaptured the lead in the second quarter when sophomore Jim Morocco hit a 25-yard field goal to give Harvard a 9-6 advantage. Dartmouth promptly responded with an impressive 50-yard field goal of its own, and later tacked on a touchdown to take a 16-9 lead into halftime.
Harvard was held scoreless in the third as the Big Green extended its lead to 23-9 on a 35-yard touchdown run by Chris Little. The Crimson made an impassioned case just 10 seconds into the final stanza when junior play-caller Ryan Fitzpatrick – back in action after a two-game hiatus due to a broken hand – found receiver Rodney Byrnes '05 on a 55-yard TD pass to cut the lead to 23-16. The shift in momentum proved to be short-term, however, as the aggressive Green quickly forged a 68-yard scoring drive to ensure the tag of "spoiler."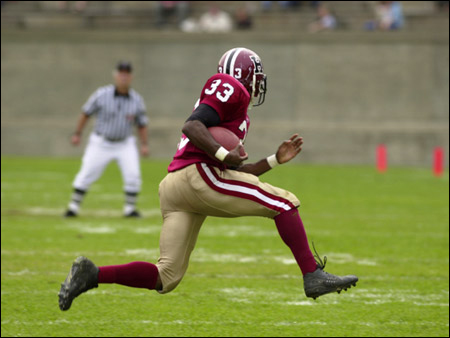 Ranked No. 23 in the Sports Network Division I-AA national poll, Harvard will look to bounce back from its lone loss when the team travels to Columbia (2-5 overall, 1-3 league) this Saturday afternoon (Nov. 8). Still struggling with the injury, Fitzpatrick's status remains week to week. Kickoff is set for 1:30 p.m.