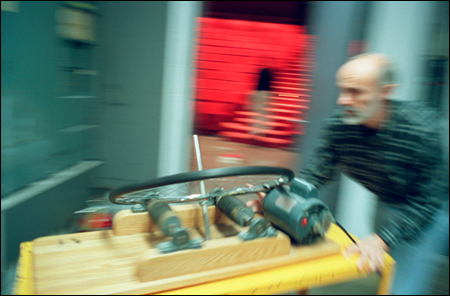 In the prep room behind the blackboards of the Science Center's five lecture halls, excitement crackles in the air as 11 o'clock approaches. Members of the media services and lecture demonstrations staffs stand at the ready with computers, buckets of soapy water, a bicycle wheel, and a bed of nails. As the top of the hour hits and classes end, they swoop into the halls for their hourly seven-minute window to strike the last professor's lecture needs and ready the next class for optimal learning.
From 8 in the morning until 10 at night, often seven days a week, while professors impart information, students learn, guests lecture, and conferences convene, the Science Center's backstage crew ensures that their presentations are technologically solid and pedagogically enriching. "We should be invisible," says José Lorbes, manager of media services, which supports Science Center users with everything from microphones to computer displays to clean blackboards. "We provide the tools for them to transfer their information," he adds.
Media services, with its battery of monitors and electronics, shares the prep room with lecture demonstrations, whose shelves burst with Rube Goldberg-style geegaws: beakers and test tubes, a rocket car, magnifying glasses, a few drums, balls of varying sizes on springs, and a stuffed purple dinosaur familiar to toddlers everywhere. "Toys are us," quips lecture demonstrations manager Wolf Rueckner. Yet his work is hardly child's play: Demonstrating concepts to physics and chemistry classes demands a firm footing in the subject matter.
"We have to be able to understand the principles and concepts behind it," says Rueckner, who works closely with the faculty to create the nearly 1,000 demonstrations his team has in its arsenal. "It's very much a collaboration. We're always talking to faculty and they're always talking to us," he says, adding that McKay Professor of Applied Physics Eric Mazur has even conducted research on the pedagogical value of different demonstrations.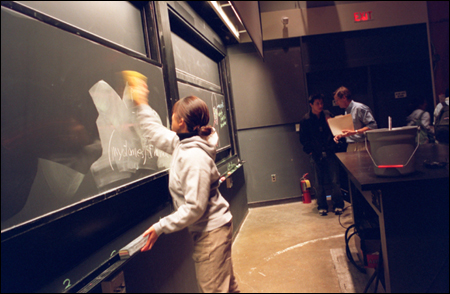 As Physics 15a, "Introductory Mechanics and Relativity," wraps up its lecture, demonstrations staffer Daniel Rosenberg enters the hall for a popular demonstration that's more combative than collaborative. Lecturer David Morin dons a lab coat and lies atop a bed of nails Rosenberg has prepared; an identical bed of nails is placed over him, and atop that, a cinder block. "If I were to lie down on one nail, it would really hurt," explains Morin as his students gasp at his bravery. To the strains of Wagner's "Ride of the Valkyries," Jamie Lush, also of demonstrations, raises a sledgehammer over the reclining lecturer and smashes the cinder block into satisfying shards. The class applauds as their teacher rises, unharmed. They linger to talk physics and inspect the bed of nails.
Rosenberg and Lush, however, eschew chitchat and remain busy. With just seven minutes to ready the hall for the next class, they can't rest on their laurels.