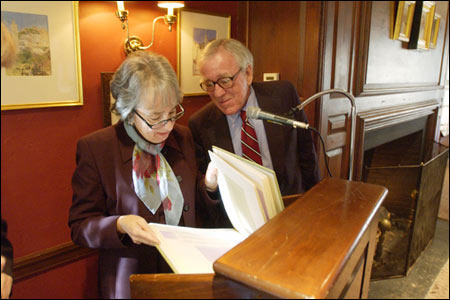 This past summer, when Claire Porter '05 was rising at 5 a.m. to greet the Ugandan dawn by recording the vocalizations of colobus monkeys, she hardly imagined she was leading a Harvard trend. Delivering babies in rural Mexico, Ashkan Abbey '05 didn't have a broad educational initiative on his mind.
And surely Christopher Moffo '04 was not feeling visionary that afternoon he locked himself in a Roman men's room and was subjected to the teasing of his Italian co-workers as they worked to free him.
Yet these three students, among 24 who comprise the 10th anniversary class of Weissman International Interns, had the sort of mind-broadening, world-shrinking experiences that Harvard policy-setters intend to make accessible to increasing numbers of students. As the interns shared their stories with each other and with benefactors Paul ('52) and Harriet Weissman at a lunch at the Faculty Club Monday (Oct. 20), the transformative power of their summers abroad was palpable.
President Lawrence H. Summers, who has had globalization and international experience for students on his agenda since his inauguration, called the Weissmans "way ahead of the curve" when they launched the Weissman Internships a decade ago. An idea like preparing students for a new and globalizing world with study abroad – almost cliché now – was far less familiar when the first Weissman Interns went abroad in 1994, he said.
"Ideas like this touch many students' lives, but ideas like this are also seeds for other ideas and innovations in the University, which is in it's own way, just as important," said Summers.
"We surely owe our students nothing less than the best possible international education of the world, here in Cambridge, and in the world," as the Weissmans envisioned, said Dean of the Faculty of Arts and Sciences William C. Kirby, who joined the lunch directly from a curricular review meeting at which international experience had been discussed.
Although the Weissmans – the original visionaries – accepted Summers' and Kirby's praise with humility-tinged pride, their real joy shone as they mingled with the interns and listened intently to the stories of the experiences they helped fund. "Harriet and I never tire of these occasions," said Paul Weissman. "This is one of the great thrills we have in our lives. We look at you as extended members of our family."
Career exploration with an international flair
In the past 10 years, the Weissman Internships, which are student-directed and administered through the Office of Career Services, have sent 192 students to 58 countries for summertime experiences that mix professional, personal, academic, and cultural growth. The Weissman Interns from this past summer fanned out to five continents to work in fields ranging from art conservation to prison reform, public health to film.
"I learned more this summer than I have my entire life," said Christopher Golden '05, in a statement that turned out to be anything but unique among his fellow interns. Golden's work researching the puma-like fossa in Madagascar and teaching environmental education to local children redirected his Harvard studies. He's currently exploring a self-designed concentration in environmental and cultural conservation, bringing together human and environmental elements in his studies the way he did in his internship.
Madagascar is an ethnic melting pot of Indonesian, Indian, Chinese, Arab, and African people, giving Golden – not only a foreigner but also one of few whites – a unique outsider's perspective. But he tackled – and mastered – the challenging local language, Malagasy, and by the end of the summer, his colleagues had dubbed him "Gasy Fotsy," or the white Malagasy. "That was my greatest accomplishment," he said.
Richard Re '04 parlayed his interest in prison reform into an internship with the Prison Reform Trust in London. Like many students, he described his experience abroad as shedding new light on his work back home. English prisons, with their roots in the Western European prison system, are facing American-style overcrowding and other problems. "The U.S. was always a topic of conversation," said Re. "How are we different from the U.S.? How do we want to be the same?"
For Moffo, who researched Italo-American relations for a think tank when he wasn't locked in the bathroom, a summer in Italy gave him perspective on the gaffes and foibles of our own nation's president. "There is no leader of a country more entertaining than Silvio Berlusconi," he said of the colorful and controversial Italian prime minister.
Rupak Bhattacharya '05 demonstrated his flair for the dramatic as he described his first few days in Bombay, where he had signed on as a production assistant on the set of a major Bollywood film. Mimicking phone conversations from his would-be supervisor with the dead-on accent and cadence of a fast-talking Bombay producer, Bhattacharya painted a picture of disorganization and frustration.
Still, he conceded, he did gain valuable experience. "The things I will take with me are things that are not so pleasant, because that's Bombay," he said. Yet his summer's work instilled in him bravery: After this, he said, he believes he can do anything.
Enriching cultural understanding
For many students, the cultural impact of their internships was every bit as powerful as the professional and academic experiences. When she wasn't doing public health research projects in Buenos Aires, Jeslyn Miller '05 went tango dancing and even skiing, a southern hemisphere summertime treat. For Julie Greenberg '05, working as a researcher in Berlin helped her come to terms with her Jewish heritage vis-à-vis Germany's World War II legacy. She found her way to a synagogue and befriended others there who, like her, had their roots in Russia.
Most students found time to explore their host countries, taking time out from their internships to play temporary tourists. Greenberg called her several visits to the Berlin Philharmonic "a dream come true." Karen Lo '05, who conducted immunology research in Stockholm, raved about her host country as if the Swedish tourist bureau, not the Weissmans, had underwritten her trip. "You guys have to go, it's just so beautiful," she told her fellow travelers.
Even those off the tourist track found beauty and inspiration. "Kosovo was wonderful, much to my surprise," said Sameer Narang '05 who worked with a nongovernmental organization in Mitrovica that aimed to bring ethnic Serbian and Albanian kids together. "It really drew me in, to see people who had been through so much … and had so much more hope than the rest of us," he said.