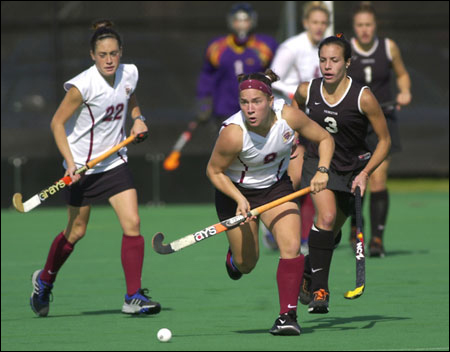 A late Crimson surge proved to be too late as Harvard's field hockey team dropped a 3-2 decision to Princeton this past Saturday (Oct. 25) at Jordan Field. The No. 15 Crimson, suffering its first defeat since an Oct. 8 heartbreaker against Northeastern, cut the lead to a single goal on a Jennifer McDavitt '06 score with 12 ticks remaining on the game clock, but the Tigers – bolstered by a pair of second-half goals – held on for the win.
The loss marked Harvard's first in the Ivies, as they drop to 10-3 overall (4-1 league), while the No. 5 Tigers improve to 10-3 (6-0 league) to clinch no less than a share of the 2003 Ivy title.
Harvard got on the board first at the 13:28 mark courtesy of senior Mina Pell's unassisted goal. The Tigers responded at 28:32 when Maren Ford tamed an unruly ball before firing it past a host of Crimson defenders and into the net to knot the game at 1 before heading into halftime.
Princeton came out like gangbusters in the second half, notching a pair of goals in a minute-and-a-half span to grab a quick 3-1 lead. Harvard remained active on the Tiger net throughout the rest of the game, however, outshooting the Tigers 9-5 in the second stanza (18-10 on the game), while enjoying 7 penalty corner opportunities. The pressure paid off when McDavitt scored from the circle to cut the lead to 3-2. But time was up on Harvard's heroics, as Princeton took over possession with just 12 seconds remaining to run out the clock for the one-goal victory.
Against the shot, senior goalkeeper Katie Zacarian had six saves for the Crimson, including four key stops in the first half.
The team hosts Dartmouth on Saturday (Nov. 1) at noon for their final home game before heading to Columbia on Nov. 8. Both are pivotal contests as the Crimson look to earn a spot in the NCAA tournament. For the latest results, visit http://www.gocrimson.