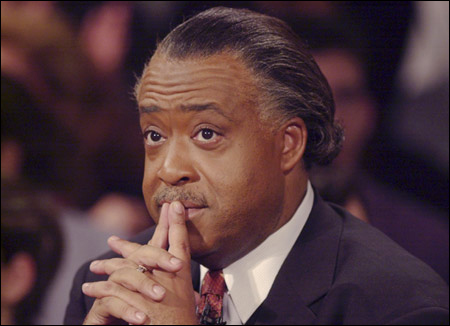 This is the third in a series of interviews with Democratic presidential candidates.
The "Al Sharpton Show" came to the John F. Kennedy Jr. Forum Monday night (Oct. 27), complete with the smart one-liners, preacher's passion, and slicked-back hair that have become Sharpton's trademarks during 30 years of political activism.
But Sharpton, appearing live on MSNBC's "Hardball: Battle for the White House," displayed a command over substance, not just style, in his Harvard campaign stop for the presidency.
---
Sponsored by the Institute of Politics, the 'Hardball' series continues 7 p.m. Nov. 3 with U.S. Rep. Dick Gephardt. Admittance to the forum event will require a ticket. Information is available at http://www.iop.harvard.edu/.
---
The hourlong back-and-forth seemed at times like a verbal game of pingpong between Sharpton and host Chris Matthews. The candidate hit on a range of issues, including his "exit strategy" for Iraq ("I wouldn't have gone in the first place"), health care ("I'm for a single-payer system"), ID cards for immigrants ("It leans towards profiling"), and human rights abuses in the Gaza Strip ("We must back enforcement of the Mitchell Accord").
Sharpton, a veteran orator who started preaching at the age of 4 and was an ordained minister by the age of 10, scored points with the audience for his relentless attack on the Bush administration.
When asked by a student why he should vote for someone with the least political experience, Sharpton said: "You shouldn't. I have the most political experience. I got involved in the political movement when I was 12 and have been involved in social policy for the last 30 years. Don't confuse title holders with political experience, as we have with the current title holder in the corner office."
Sharpton was particularly strong on Bush's decision to go into Iraq.
"We need to ask Bush: Where is bin Laden? How did we get over to Hussein?" he said. "At my first debate with Bush, I'm going to wear a T-shirt that says, 'Where's bin Laden?'"
Sharpton, founder of the Harlem-based National Action Network, seemed to enjoy sparring with Matthews, who challenged him many times throughout the night. At one point, when Sharpton said, "People are disingenuous" – referring to his Democratic opponents in the race who were in support of the war on Iraq – Matthews asked why he was being so polite.
"Why not use a word like 'dishonest'?" Matthews asked.
Sharpton smiled and paused before answering.
"Because I'm talking and you're not going to put words in my mouth," he said.