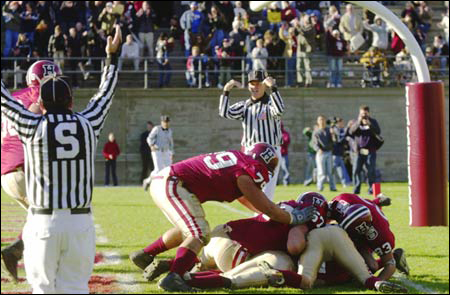 For a month dedicated to celebrating the centennial of Harvard Stadium, the Crimson's dramatic 43-40 overtime victory against Princeton this past Saturday (Oct. 25) made for a fitting installment to the stadium's rich 100-year history. In fact, the emotional game – featuring five lead changes, two ties, two missed field goals, four (for four) botched two-point conversion attempts, and the aforementioned OT ending – nearly felt like a scripted homage to the sport as a whole.
Yet given the history between these two teams – five of their last seven meetings have been decided by seven points or less (all in Harvard's favor, incidentally) – the thrilling ending, if not entirely expected, was an appropriate one.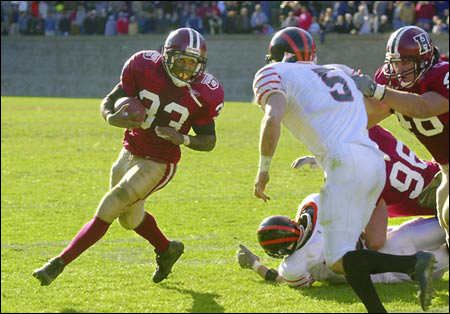 Down 40-37 in extra minutes following a Tiger field goal, Harvard took possession for one last stab. And after a frustrating day of failed chances near the end zone (those four failed two-point conversions all came courtesy of the Crimson), Harvard redeemed itself with a 25-yard, 5-play scoring drive as quarterback Garrett Schires '05 hit a heavily covered Rodney Byrnes '05 in the end zone with a four-yard pass. The OT TD lifted the 20th-ranked Crimson past Princeton, 43-40, kicking off a Crimson dog pile of epic proportions.
With the win, Harvard stays perfect on the year, improving to 6-0 overall and 3-0 in the Ivy League, while the Tigers fall to 1-5 overall and 1-2 in league action.
For the second straight week, coach Tim Murphy looked to freshman tailback Clifton Dawson as the team's workhorse, and again, Dawson delivered. On a whopping 40 carries, the Ontario native tallied 183 yards against the Tigers for three touchdowns. Meanwhile, Schires – calling the signals in his second collegiate start for an injured Ryan Fitzpatrick '05 – threw for 261 yards on 18-of-30 for three touchdowns and one interception. Byrnes finished with 80 receiving yards and two touchdowns.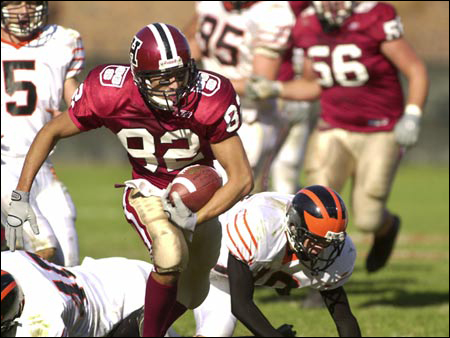 At the linebacker positions, Bobby Everett '05 recorded nine unassisted tackles (six assisted), while Dante Balestracci '04 brought down four Tigers on his own, and contributed to 12 group tackles.
Harvard will look to avenge a 1903 loss against Dartmouth this Saturday (Nov. 1). The game marks the 100th anniversary of football action at the stadium. Kickoff is at 12:30 p.m.