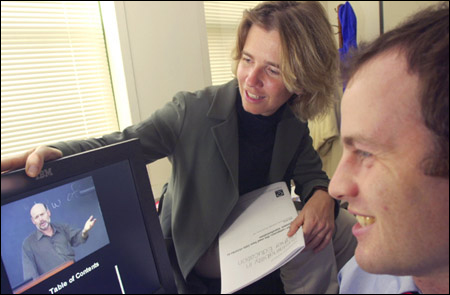 After turning Harvard green for three years, the Harvard Green Campus Initiative is sharing the lessons it learned, reaching out through an Extension School course to students as far away as Australia and Iraq.
The class, ENVR E-117, "Sustainability: the Challenge of Changing Our Institutions," aims to guide students on how to become agents of change to benefit the environment, incorporating some strategies and techniques used at Harvard.
Green Campus Initiative Director Leith Sharp, who co-teaches the class with Jack Spengler, Akira Yamaguchi Professor of Environmental Health and Human Habitation, said a large proportion of the subject matter is drawn from Harvard's experience. The University has seen significant gains over the last three years.
"We just attended a national conference on greening campuses. Harvard is clearly ahead of the pack now," Sharp said.
That's the good news. The bad news is that even though it's ahead of sister institutions, Harvard is still just beginning to lessen its impact on the biosphere.
"We're just barely scratching the surface," Sharp said.
Spengler, on the faculty of the School of Public Health, said he thought a course with hands-on relevance to the things people do every day was needed.
"This year we thought there was a need for something with direct relevance to everybody's life," Spengler said.
The first class included an exercise intended to personalize the problem for each student. Students had to calculate the amount of greenhouse gas their own activities generate. Overall, Spengler said, about a third of the coursework will focus on the environment and the importance of changing the way we live and work. Another third will look at what is happening at Harvard, while the last portion will be focused on organizations – how they behave and how they can be changed.
When asked about Harvard's green record, Spengler reeled off a quick list. Included was improved recycling programs, an effort to power shuttles with cleaner fuels, environmental representatives in dormitories to boost student awareness, and an Environmental Loan Fund, which makes $3 million available for environment-related projects and improvements.
"There are some great examples here," Spengler said.
While not the only actor in this arena, the Green Campus Initiative has been a big driver of change around campus. The initiative began about three and a half years ago, when it hired Sharp as its first director and only full-time employee. Since then, with seed money from the President and Provost's Offices, the organization has grown to nine full-time workers who provide a range of fee-for-service consulting for Harvard's various arms.
Sharp said only about 20 percent of the group's current budget comes from the original commitment from the President and Provost's offices, the rest comes from its fee-for-service operations. Those operations, in turn, save the departments and schools that hire them more than they cost.
During the last three years, facility managers, building managers, project managers, students, and faculty at Harvard have saved more than $800,000 through Green Campus' efforts. As importantly, they've prevented 11 million pounds of greenhouse gas that would have been generated by Harvard's activities from entering the atmosphere.
Those savings have been achieved in a wide variety of ways, from installing energy-efficient lighting, to increasing recycling rates in student dormitories, to re-examining building design for both existing facilities and new projects.
Sharp said they've been learning along the way. Even now, she said, they're just beginning to ask the right questions. Sharp said it has taken time to recognize accounting procedures as a hurdle to their efforts. The way the books are kept in many areas, she said, separates capital expenses from operating and maintenance costs, and those from utilities. This separate accounting makes it difficult to justify costly changes to building construction and renovation that would, for example, increase capital expenses but decrease utility and maintenance costs down the road. The potentially impressive return on the investment that can result from facility upgrades is just not recognized by our accounting structures, Sharp said.
Through all their efforts, Sharp said, the Green Campus Initiative has emphasized that environmentally friendly efforts have to recognize the paramount importance of an organization's mission. They recognize that things are done in a particular department or facility for a reason and that they have to understand that reason before they start suggesting changes. Changes that are made have to work in real-world conditions and they have to save money, at least in the long run.
Sharp believes that the Green Campus Initiative's efforts are still gathering steam, saying it isn't unreasonable to expect the organization's environmental impact reduction achievements to double in the next few years.
"The University is awash with opportunities to improve efficiency in infrastructure," Sharp said.
The lessons learned here are being packaged for students in the new Extension School class. The class has about 70 students, 30 of whom are taking it through distance learning. Those students are in far-flung locations, including Alaska, Australia, England, and Iraq, where a member of the U.S. military is tuning in via the Internet.
"We build from a practical case study based on our experience at Harvard and build to a general experience," Sharp said. "[We're teaching] how to integrate sustainability within the reality of our own organizations, within the financial reality and within the political reality."
The course has broad appeal, Sharp said, because interest in lessening our impact on the environment is growing, on campus and abroad.
"It really does appeal to almost anyone," Sharp said. "It doesn't matter where you come from, something about it matters in your own life."