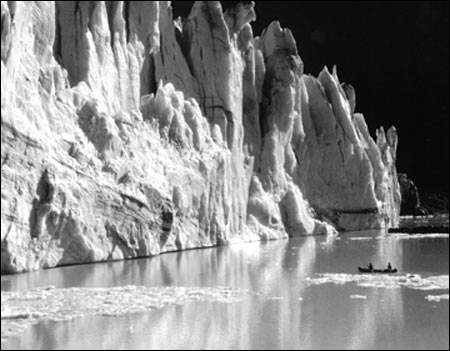 In his long lifetime, Brad Washburn '35 has ascended heights most of us don't even dream of. Since scaling Europe's highest peaks at age 16, he's mapped the now-standard route up Alaska's Mt. McKinley, created definitive maps of that mountain plus Mt. Everest, the White Mountains of New Hampshire, and, in a reverse of altitude, the Grand Canyon. A pioneer of aerial photography, he made the first photographic flight of McKinley in 1936.
---
Photo gallery: 'In the Mountains' with Brad Washburn
Exhibit information: Harvard Museum of Natural History
---
Now, those of us with less inclination to scale mountains or hang out of airplanes need only climb a few flights of stairs at the Harvard Museum of Natural History for a glimpse of the glories Washburn witnessed at the top of the world. "In the Mountains: Photographs by Bradford Washburn," an exhibit of 35 photographs selected by Washburn, opened Saturday (Oct. 4) and will run through the winter until at least April. Spanning 50 years of Washburn's legendary career, from images shot in the Alps when he was still in his teens to dramatic photographs of Alaska taken in his 70th year, the photographs are a gift to Harvard University.
"You've got all my favorite old pictures!" Washburn exclaimed at a preview of the exhibit Thursday (Oct. 2) afternoon.
"Glory be, this is gorgeous," echoed his wife, Barbara, a spry 89, who accompanied him on many of the expeditions that produced the large-format black-and-white photos. One photo in the exhibit, "Barbara Washburn at 18,500 feet on Mt McKinley, Alaska," documents her pioneering 1947 ascent of Mt. McKinley; she was the first woman to summit North America's highest peak.
The photos by Washburn, a native New Englander who directed Boston's Museum of Science for nearly 40 years, are as much studies in geology as in art. At the preview, the climber gravitated toward the geologic features his works highlighted, tracing his finger along a fault in the Bright Angel Trail of the Grand Canyon and pointing out thrust faults that crisscross a glacier. "The way these glaciers disintegrate is amazing," he said.
Now 93, Washburn asserts that he always considered himself a climber first and foremost; he has said that his interest in photography was more scientific than artistic. In photograph after stunning photograph, to hear him tell it, serendipity had a heavier hand than talent.
"We were lucky, that damned thing just fell off at the right moment," he said of his "Birth of an Iceberg."
Certainly, Washburn's subject matter lends itself to grandeur and spectacle, but the photographs sparkle with his compositional eye. In "After the Storm: Climbers on the Doldenhorn," shot in Switzerland in 1960, six ant-sized climbers make their way up a snow-covered knife edge, their dark tracks creeping down the bright white mountain behind them. Another photo, "South Crillon Glacier and Canoe" (1934), captures a humble canoe paddling beneath towering ice spires.
The stark black-and-white richness of Washburn's mountain photography evokes the photographs of another, better-known photographer, Ansel Adams, who died in 1984. And indeed, Adams has lauded Washburn's work, writing the preface to Washburn's book "Mt. McKinley, Conquest of Denali" (co-authored by David Roberts; Harry N. Abrams, Inc., 1991). Despite the harsh conditions under which Washburn shot, Adams wrote, "the photographs look almost inevitable, perfectly composed. These are not simply documents of McKinley's wilderness; we sense in each the presence of an individual, highly intelligent eye. The photographs are the result of explorer's consistent energy of mind and spirit – and so truly they mean something."
Although the photo Adams deemed his favorite – a dramatic shot of a thunderstorm blowing up the west slope of McKinley – is not in the collection, the photos that are on display comprise a stunning testament to Washburn's passion for the science, drama, and breathtaking beauty of some of the Earth's most stellar landscapes.