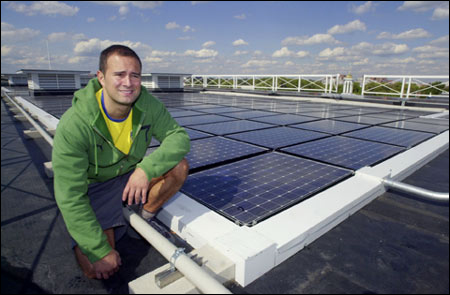 A new solar power installation on top of Harvard Business School's Shad Hall has made the School a renewable energy pioneer and, supporters said, provide a concrete case study of the affordability of clean solar energy.
The 36-kilowatt installation on the Business School's athletic facility is the first at Harvard and one of the largest in Boston, second only to the U.S. Coast Guard building in Boston's North End. The installation consists of 192 photovoltaic panels that convert sunlight hitting Shad Hall's roof into enough electricity to power about 10 homes. It will provide between 3 percent and 5 percent of the building's annual electricity needs.
The project got its initial push from two master's in business administration candidates, Dan Cook and Brian Robertson, who head the HBS student group the Sustainable Development Society. Cook, in his second year of the program, said he and Robertson used the principles they learned from their first-year classes – doing a financial analysis and bringing in competitive bidders, for example – in bringing the project to completion.
"This is a green project that makes practical sense," Cook said. "There doesn't necessarily have to be a trade-off of doing what's good for the environment and doing what's good for business."
The project, which came online Sept. 18, will provide electricity for about 9 cents per kilowatt hour for 20 to 25 years. During the course of its operation, it will prevent the emission of about 75,000 pounds of carbon dioxide per year. That is the equivalent of keeping 220 cars off the road. Increasing carbon dioxide in the atmosphere is thought to be a factor in global warming.
Harvard Business School Operations Chief Frank Hayes said the project fits well with the School's emphasis on utilizing clean energy options whenever possible.
Shad Hall is a focal point of those efforts, he said, because, being an athletic facility, the building is not very energy-efficient. It uses a lot of hot water in the showers and takes a lot of heat to warm the building's large gymnasium and other athletic spaces.
"We went from talking about a concept over coffee to an installed system," Hayes said. "This is a fantastic collaboration between students, staff, and faculty."
Hayes said they plan to use the project as a demonstration and will create educational materials as well as a display in Shad Hall's lobby that shows how much power the panels are generating.
The project was financed through a no-interest loan from the Harvard Green Campus Initiative's Environmental Loan Fund, which makes money available for environmentally friendly projects across Harvard's campuses. The $250,000 loan, which will be repaid by the Business School, was augmented by a $143,500 grant from the Massachusetts Technology Collaborative.
Material inside the photovoltaic panels converts sunlight to electricity. From there, the electricity flows to inverters inside the building that change the electricity into alternating current. The power helps cut the building's energy demands, but not enough that Shad Hall can cut itself off from the power grid.
Green Campus Initiative Director Leith Sharp said the project is important as a demonstration of the feasibility of solar power. With many construction projects coming up at Harvard, Sharp said it is important to show that environmentally friendly alternatives can make good business sense.
"This is a good opportunity for the University to test the waters and see how useful that [photovoltaic panels] will be," Sharp said.
Though solar power won't make Shad Hall self-sustaining, even a small percentage decrease in the building's power consumption can have a large impact on the regional power grid. That's because the dirtiest coal-fired power plants are usually brought on line to meet peak demand. If Harvard were able to decrease its dependence on the power grid by just a few percent, it might help lower those peaks and perhaps keep the dirtier plants idle.
"If you're able to reduce peak load, you can have a substantial impact on the size of the fossil fuel infrastructure," Sharp said.