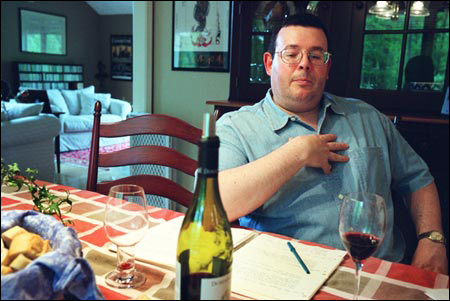 Photo by Stephanie Mitchell
Text by Beth Potier
Wine is in Paul Malagrifa's blood. His grandfather, an Italian immigrant, made wine in his East Boston basement. "I always said that I was going to carry on the family tradition," says Malagrifa, who has been "playing with wine" for nearly two decades.
Malagrifa did make wine – a decent bottle of red, he says – for about five years before turning his palate to appreciating the fruits of others' labors. "Some people hung around rock bands, I used to hang around wine shops on Saturday mornings before they got crowded," he says of his early days. The director of applied technologies for Harvard's University Operations Services, Malagrifa has since earned the certified wine specialist accreditation from the Society of Wine Educators, and is on his way to becoming just the second certified wine educator in Massachusetts.
"Pretty much everything I've learned is self-taught," says Malagrifa. "You get good at appreciating wine by drinking it." Growing up in a family where wine flowed with most meals, Malagrifa may have had a head start. Now, he estimates that he tastes (but doesn't necessarily drink) between seven and 15 bottles of wine a week and drinks another three or four for enjoyment. His personal collection boasts about 3,500 bottles of wine in temperature-controlled cabinets.
The art and craft of wine appreciation involves strengthening the connection between smell, taste, and memory, which Malagrifa does by studiously tasting new wines, often with a group. "Tasting for enjoyment is very different than tasting for critical analysis or buying decisions," he says. "To really be able to judge a wine accurately, it really needs to be a very methodical approach."
As befits a would-be wine educator, Malagrifa has launched a Web site – www.musingsonthevine.com – to share his knowledge of and passion for wine with the world. He started the site, he says, "to dispel the notion that wine tasting and wine appreciation are only for the rich." In fact, he notes that scientific advances in growing grapes and making wine have greatly improved the quality of less expensive wines over the past decade.
With Malagrifa's extensive tasting notes, lively regional profiles, and an "Ask Paul" section, the site makes wine appreciation approachable, if not exactly simple. "People shouldn't be afraid of wine, they shouldn't be afraid to go into a wine store," Malagrifa says with evangelistic fervor. "Wine is for everybody."