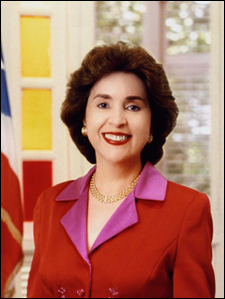 For her leadership in government and humanitarian causes, the Harvard Foundation will honor Gov. Sila Calderón of Puerto Rico at a reception this Friday (Oct. 17). Calderón will receive the Harvard Foundation Medal at a reception for students and faculty in Leverett House at noon, and will deliver a public address titled "Value-Based Democracy: A Puerto Rican Case Study" in the John F. Kennedy Jr. Forum at 4 p.m.
A native of San Juan, Calderón was elected governor of Puerto Rico in 2000 after a very successful political initiative in which she used the slogan "We want change." She is the first woman to be elected governor of the commonwealth, after serving as secretary of state and later as mayor of San Juan.
"Governor Sila Calderón is one of the most outstanding political leaders in the Americas today," said S. Allen Counter, director of the Harvard Foundation. "A brilliant visionary with a strong belief in compassionate governance, she has set a remarkable example for all of us. We are proud to welcome her to Harvard as our honorary guest," Counter said.
Educated at Manhattanville College, the governor has established new policies on economic development, drug control, public education, child abuse, and tourism. She has worked closely with poor communities in need of improvements in housing, social services, and economic development. Helping the less fortunate to have a greater say in their future has been an important theme of Gov. Calderón's vision for Puerto Rico.