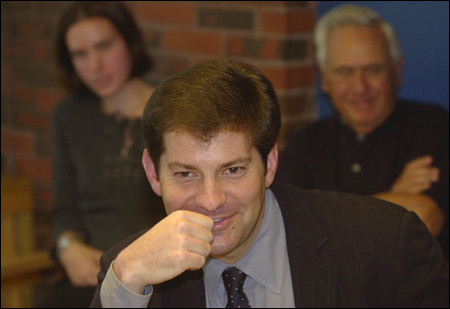 The 2004 presidential contest is heating up, with recent polls showing President Bush increasingly vulnerable, but with a Democratic presidential field so far lacking a strong enough candidate to boot him from the job, ABC News' political director told a Kennedy School audience last week (Sept. 25).
ABC News Political Director Mark Halperin said national security remains the most important issue in the race, with wars unfinished in both Iraq and Afghanistan and the nation still on edge after the 9/11 terrorist attacks.
That means a credible Democratic challenger will have to have strong national security credentials and give the electorate confidence in his ability as commander in chief. That said, the economy's woes are making the president increasingly vulnerable on that front, something the current field of candidates hasn't taken advantage of, Halperin said.
"None of them are talking about the economy in a way that experts I know think is compelling and makes the case that George Bush should be fired and someone else [put in his place]," Halperin said.
Halperin spoke at the Kennedy School of Government during a brown bag lunch hosted by the Joan Shorenstein Center for the Press, Politics and Public Policy and by the Institute of Politics (IOP).
Halperin was introduced by IOP Director Dan Glickman and by Shorenstein Center Director Alex Jones, who said the recall election in California was drawing national attention away from the presidential race and clouding the national political scene.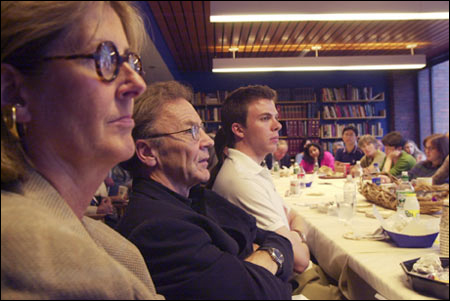 "It's going to get quite complicated," Jones said.
Though Halperin said he didn't see a Democrat in the field today that had the ability to unseat Bush, he also said it's early in the race. He believes candidates can grow during the course of the campaign and he said several contenders for the Democratic nomination had the potential to emerge as a credible threat to the president.
One strength Bush has is the loyalty he inspires in the people who work for him, Halperin said. That loyalty is not mirrored in the campaigns of most of the Democratic candidates, he said.
In fact, Halperin said he has been shocked to hear top Democratic campaign workers disparaging their candidates to members of the press. He attributed it to a combination of the Democratic Party's traditionally fractious internal politics, a general coarsening of American manners, and resentment by people who have put their lives on hold to toil for candidates who are running bad campaigns.
In addition to inspiring loyalty, Halperin said, President Bush is a master at managing the political press, taking a few questions frequently at photo ops, where he can duck out if the questioning gets tough, rather than exposing himself to tougher questions and follow-ups at a formal press conference.
Halperin said there's been a shift in how the two parties perceive media coverage of them, with Democrats increasingly taking up the Republican cry about the press being unfair. Halperin said he did think that the media was particularly hard on President Bill Clinton and has been particularly soft covering President Bush, calling coverage "disgraceful."
"Coverage of George Bush has been too weak by any objective standard," Halperin said. During a question-and-answer period, Jones asked whether the media's perception and reporting that none of the current Democratic hopefuls can beat Bush is one that will stick and potentially become a self-fulfilling prophecy.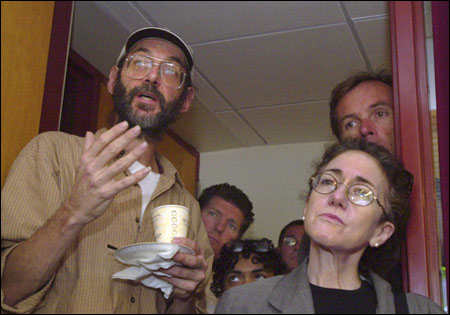 Halperin congratulated those attending for their early interest in the presidential race, but said most of the country really isn't paying attention, so any media labels were unlikely to affect overall public perception.
"I congratulate everyone in this room, because you're part of the 7,000 people [nationwide] paying attention," Halperin said.