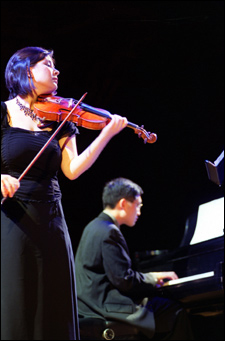 With an accordion strapped across her shoulders and gold ornaments dangling from her neck, fingers, and hips, Petra Gelbart, a second-year graduate student in ethnomusicology, belted out a Rroma (Gypsy) song with a gorgeous urgency that she seemed to be channeling from generations past. Then Jessica Maya Marglin '06 turned the stage into a passage to India with a classical dance. As she whirled and lunged, ankle bells jangling seductive tempos, she delivered a monologue with her eyebrows: Come closer, I challenge you, I dare you. Next a Steinway & Sons grand piano was rolled on the Sanders Theatre stage. Anthony Cheung '04 took his perch on the bench and coaxed out the second movement of a sonata he composed for violin and piano, with accompaniment from Miki-Sophia Cloud '04.
This is a only a sampling of the dazzling performances that lit up the stage in Memorial Hall last Saturday night (Oct. 25) at Forte! A Celebration of Student Excellence in the Arts." Presented by President Lawrence H. Summers and the Office for the Arts (OFA) at Harvard, the evening showcased an eclectic collection of students who contribute to the thriving artistic life on campus. Among the 22 acts on the bill were student organizations such as the Kuumba Singers of Harvard College and the Harvard-Radcliffe Collegium Musicum, but most numbers featured unaffiliated performers. Many have racked up an impressive catalog of accomplishments, from touring the globe with prominent ensembles to scoring awards in international competitions to being featured on National Public Radio programs, yet they have had scant opportunity to formally brandish their mastery on campus.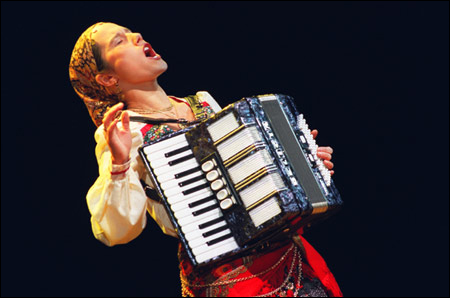 "I knew Lindsay [Turner '07] played the fiddle because I hear her all the time. She practices in her room and I've stopped by her door to listen, but I never expected this," said Jessica Huang '07, who was amid the full house at Sanders and is a Stoughton Hall neighbor of Turner, who opened the evening with a crisp rendition of Scottish melodies on fiddle as Max Newman '07 picked dexterously on guitar.
"Forte!" is the third episode of what has all the makings of an emerging institutional custom. Saluting students in the arts began in 2001 with "Segue!," a similar showcase of performances held on the eve of Summers' inauguration as president.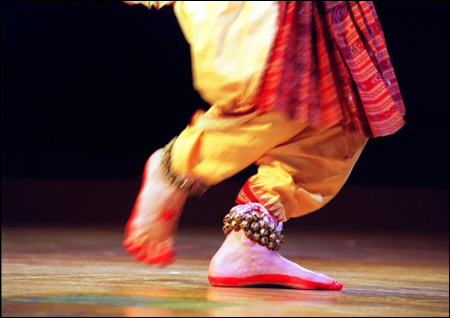 "Summers was so taken aback by the breadth of talent on campus that he wanted to support some major arts initiative each year to celebrate student talents," said Eric Engel, director of Memorial Lowell Complex and a co-producer of "Forte!" Last year, the arts initiative took the form of a five-day residency of the Boys Choir of Harlem. Their involvement with the Harvard community culminated in a performance in which they shared a stage with the Kuumba Singers, the Harvard Baroque Chamber Orchestra, and other Harvard musicians.
The performers in "Forte!" were assembled through a process begun last spring when the OFA invited nominations from faculty, administrators, arts tutors, and housemasters. From there it became an exercise in strategic planning as organizers grappled with how to get a balanced representation of the artistic energy and skill on campus. In trying to assure that every aspect of the arts community was represented, they inevitably faced logistical challenges.
"The Department of Visual and Environmental Studies [VES] is a department where one engages in making art for credit. That's unusual at Harvard, so it seemed like having an event like this and not representing a department dedicated to the creation of art as part of the curriculum would be remiss," said Jack Megan, director of OFA and a "Forte!" co-producer. "How to take forms not intended for the stage and integrate them into what is largely a performative event was very much a collaborative effort." The organizing committee worked with VES chair Marjorie Garber, and professors Jack Moss and Paul Stopforth to identify art that would fit into a performance framework.
The solution was to present students' films and videos as well as slides of photography and sculpture on a drop-down screen, often with live musical accompaniment. The juxtaposition of visual art and performance could be stunning. After the screening of Rebecca Ganz's '01-'02 "Cells," a provocative video collage of the dingy quarters of a mental institution, Kiran Deol '04 and Graham Sack '03 performed a moody dramatic work developed under the supervision of American Repertory Theatre's artistic director Robert Woodruff. Primarily devised from literary sources ranging from T.S. Eliot to David Foster Wallace, "Blind/Love" smoothly revisited and incorporated flashes of Ganz's video.
Other performances were also manifestations of dynamic alliances.
"More minds mean more perspectives. It's interesting to see how people across disciplines can interpret the same thing," said Jetta Grace Martin '05. In "Breathing in Unison," the free jazz riffs Brenden Millstein '06 played on saxophone were interpreted by Martin's fluid modern dance simultaneously with Niles Xi'an Lichtenstein's '05 image-evoking spoken word. As Martin's arms swiveled like propellers and her back bent like a slingshot, the audience was treated to verbal nuggets like "reconnect emotional umbilical cords," "defying physics of the fourth dimension," and "the enchantment of freshly cut infatuation."
As wide-ranging as the performers were, one thing they had in common was an appreciation for their classmates' capabilities.
"I heard the Kuumba Singers and I realized I really want to join them. They really cross ethnic boundaries," said Gelbart, the Rromany singer. "I had no idea of the array of talents that are here."