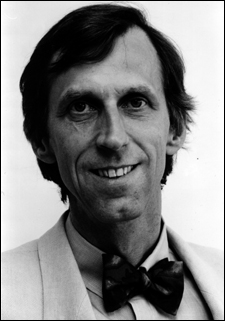 Marjorie B. Cohn, acting director of the Harvard University Art Museums (HUAM), recently announced that members of the Christof Engelhorn family have endowed a curatorial internship at the Busch-Reisinger Museum. According to Cohn, "Formal internships have been a part of the Art Museums' academic mandate for decades and with this endowment the Busch-Reisinger Museum will from now on be a certain and permanent focus for curatorial training."
The curatorial internship is being named for Stefan Engelhorn. An enthusiastic patron of the arts, Engelhorn moved easily among artists, architects, and filmmakers. He was a loyal member of the Friends of the Busch-Reisinger Museum for almost 10 years, an active participant in the Collections Committee of HUAM, and a passionate believer in the ability of art to bring people together in dialogue and learning. He assisted in fundraising for Werner Otto Hall, the current home of the Busch-Reisinger Museum, and took a special interest in ensuring that the museum's study room would remain a lively place of intellectual and aesthetic encounter.
Son of Christof and Ursula, Engelhorn was trained as a doctor and chemist in Germany. From 1986 to 1991, he held an appointment as a research fellow at Harvard Medical School (Department of Immunology and Rheumatology) and at the Harvard School of Public Health (Department of Tropical Public Health), working in the field of infectious diseases. On returning to Germany, he was involved in strategic projects at Boehringer Mannheim, a midsized international pharmaceutical and diagnostics company established by his family three generations ago. He served on the boards of several biotechnology institutes, companies, and universities. Until his death last year, he was the CEO of Scil Technology Holding GmbH, which he founded in 1998.
The Engelhorn family expressed delight in being able to support the educational work of the Busch-Reisinger Museum and honor Stefan's memory in this way, as he was devoted to the arts in general and to the Busch-Reisinger Museum in particular.
"I can think of no more appropriate way to honor Stefan Engelhorn at the Busch-Reisinger Museum than through this curatorial internship," said Peter Nisbet, Daimler-Benz Curator of the Busch-Reisinger Museum. "Our internships bring together a bright, ambitious, international group of aspiring art historians, museum professionals, and conservators, to learn about the value of art as a catalyst of teaching, research, and discussion. Stefan was always interested in the museum as a place of encounter and exchange. I was privileged to have known him, to have enjoyed his wide-ranging, curious, engaged mind, and to have observed his humanitarian commitment. We could not be more grateful to the members of the Christof Engelhorn family for this generous donation."
The first incumbent of the 22-month Stefan Engelhorn Curatorial Internship is expected to take up the position in September 2004. Each year between eight and 12 talented individuals are awarded curatorial or conservation internships at HUAM. The internships allow people with master's degrees or doctorates to work in the museums and to undertake special projects in collaboration with the professional staff.
The Busch-Reisinger's exhibition program rests in part on research conducted by interns who work closely with senior scholars. The curatorial internship program provides wide-ranging hands-on experience to prepare the interns for professional and scholarly careers in art history, particularly at museums. Recent projects developed by Busch-Reisinger interns include "Wols Photographs," a 1999 exhibition that showcased photographs from the 1930s by the German-French artist Wolfgang Otto Schulze, and "Extra Ordinary Every Day: The Bauhaus at the Busch-Reisinger," an Internet-only exhibit.