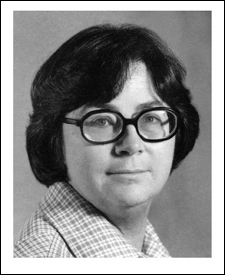 Elisabeth Blair MacDougall, an art historian who helped transform the study of gardens into an academic discipline, died Oct. 12. She was 78.
From 1972 until her retirement in 1988, MacDougall served as director of the program of studies in Landscape Architecture at Dumbarton Oaks, and was a member of the Faculty of Arts and Sciences and a visiting associate professor at the Harvard Graduate School of Design. During her tenure, she shaped the first center for the study of the history of gardens and landscape.
Miroslava Benes, senior lecturer in the history of landscape architecture at the Graduate School of Design, said that MacDougall was one of the first scholars to apply the principles of art history to the study of gardens, analyzing the use of color and design in 16th and 17th century French and Italian gardens in much the same way art historians study other artistic productions of the period.
"She was an exceptionally thorough scholar who was classically trained and was able to work with very different types of documents. She was also one of the first women to work in this field in what was a transitional period for women scholars."
Benes first met MacDougall in 1975 when the latter was teaching at Boston University and Benes was a graduate student at Yale who commuted to Boston to take MacDougall's course on 17th century Italian gardens.
"She was wonderfully witty and could be sharp-tongued on occasion, but she was always a delightful person," Benes said.
John Dixon Hunt, who succeeded MacDougall as director of landscape architecture at Dumbarton Oaks, said that MacDougall "put garden history on the map. Before Betty, there was a distinguished handful of amateurs, but she was one of the few who went into it professionally and really raised the standards of the discipline."
Hunt, now chair of the Department of Landscape Architecture and Regional Planning at the University of Pennsylvania and editor of The Journal of Garden History, said that MacDougall's decision to specialize in gardens came at a time when "an awful lot of people were moving out of the centers of their disciplines into areas that allowed them to become more interdisciplinary. Garden history has become popular because it requires one to be familiar with a variety of subjects, including art history, architectural history, literary history, geography, material culture, and the history of ideas."
Naomi Miller, a colleague at Boston University who collaborated with MacDougall on a book about garden fountains, said: "Collaboration with Elisabeth MacDougall – whether as author, editor, or faculty colleague – was always a privilege, a pleasure, and, above all, a valuable learning experience, thanks to her meticulous readings and informed suggestions. A powerful voice in the field of architectural history, Elisabeth MacDougall was a first-rate scholar, but no less a gracious hostess, a lively raconteur, and a person who adhered to the highest standards of academic discourse."
Eleanor McPeck, a member of the faculty of the Arnold Arboretum's Landscape Institute, said that MacDougall "made a major contribution to landscape history studies at a time when the field was in its infancy. Her strong background in the history of art and architecture were probably what enabled her to make such a rich contribution to the field."
Born in Chicago in 1925, MacDougall grew up in Colorado Springs, Colo. She earned her B.A. from Vassar College in 1946 and her M.A. from the Institute of Fine Arts, New York University. She earned her Ph.D. from Harvard in 1970.
She served in various positions in the Society of Architectural Historians, including member of the board of directors, secretary, first vice president, president, and editor of the society's journal from 1984 to 1987.
She also served on the Committee on Historic Gardens and Sites of the International Committee on Monuments and Sites, and was on the landscape jury for the Rome Prize of the American Academy in Rome.
While living in the Boston area during the 1960s and early '70s, she served in various capacities on the Cambridge Historical Commission. She was co-author of Vol. II of the Cambridge Architectural Survey and was appointed chair of the newly formed Boston Landmarks Commission.
Her publications include "The Villa Mattei and the Development of the Roman Garden Style" (1970); "The French Formal Garden" (ed., 1974); "The Islamic Garden" (ed. with Richard Ettinghausen, 1976); "Medieval Gardens" (ed., 1986); and "Fountains, Statues, and Flowers: Studies in Italian Gardens of the Sixteenth and Seventeenth Centuries" (1994).
Her former husband, Gregory MacDougall, and their daughter, Elspeth Blair MacDougall, are deceased. She leaves five grandchildren and two great-grandchildren; a brother, Wiley Blair III; his wife Susanne; and their daughters Susanne Riley, Margaret Spaulding, and Katherine Rible. She also leaves her former husband's sister-in-law, Jane McCann, and her children, Johanna Wittreich, Marjorie Estridge, Agnes McCann, Mary McCann Fiske, and James McCann.