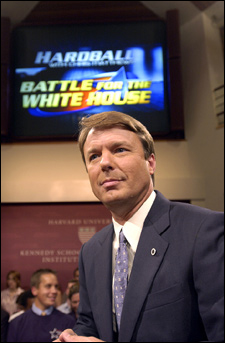 Sen. John Edwards (D-N.C.), fighting to break out of the middle of the crowded pack of Democratic presidential contenders, answered his critics Monday night (Oct. 13) during the first in a series of one-on-one interviews with the candidates at Harvard's Kennedy School of Government. The program was televised live from the John F. Kennedy Jr. Forum on MSNBC's "Hardball With Chris Matthews." Matthews conducted the interview.
The first-term senator defended his congressional vote in favor of the war in Iraq, citing Iraqi leader Saddam Hussein's potential for obtaining weapons of mass destruction. Hussein posed a "direct threat to the security of the American people and a direct threat to a region of the world that is increasingly dangerous," Edwards stated. "I stand behind my support of the war."
At the same time, Edwards attacked the Bush administration's postwar reconstruction plans for Iraq. "We were promised a plan. There is no plan. We were promised a coalition. There is no coalition," he said.
Edwards chastised President Bush for neglecting to build sufficient international support for U.S.-led efforts to stabilize Iraq over the long term, saying the true test is not today, but "five years down the road." Edwards emphasized that he intends "to hold this president accountable for the way he's conducting this war."
---
The Hardball series at the Kennedy School continues Oct. 20, when Sen. John Kerry (D-Mass.) will share the stage with Chris Matthews. Admittance to the forum event will require a ticket. Information is available on the
Institute of Politics Web site.
---
On the economic front, Edwards berated the Bush administration's tax-cut policies, saying they favor the wealthy over the working class. "We should be empowering the middle class, not dragging it down," he stated.
Edwards outlined his own plans for restarting the nation's economic engine. They include reversing the Bush tax cuts aimed at those earning more than $200,000 a year; raising the capital gains tax on individuals earning more than $300,000 a year; keeping, rather than repealing, the estate tax; and closing corporate tax loopholes. Edwards also referred to plans to extend health insurance to more children and to provide additional tax breaks for first-time homebuyers.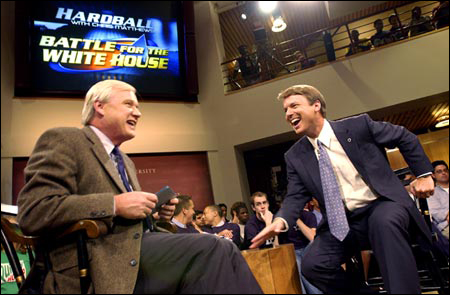 The young senator seemed a bit nonplussed when Matthews quizzed him on his favorite movie, book, and philosopher. "I don't have a favorite philosopher," Edwards answered. "I really don't."