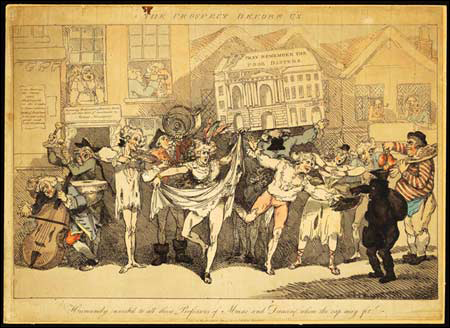 The Harvard Theatre Collection's exhibition "The King's Theatre: Ballet and Italian Opera in London, 1706-1883," tells the stories behind the performances, and performers, of the King's Theatre in London. Librettos, printed scores, manuscripts, playbills, and etchings illustrate how the theater's ballets and operas influenced the cultural life of the city and affected music publishing in the 18th and 19th centuries.
---
The Harvard Theatre Collection exhibit 'The King's Theatre: Ballet and Italian Opera in London, 1706-1883' is on display through Dec. 5 in the Edward Sheldon Room at Pusey Library. A catalog of the King's Theatre portion of the John Milton and Ruth Neils Ward Collection has been published in conjunction with the exhibit, and can be purchased by contacting pga@fas.harvard.edu.
---
The exhibition presents two centuries in which the King's Theatre burned down several times. The theater, which continued under a succession of kings as well as Queen Victoria – when it was known as Her Majesty's Theatre – held the license that designated it as the only theater in London that could perform Italian opera. It staged the London premieres of works by Handel and Mozart, and continually employed a variety of lively, strong-headed, and dramatic characters.
The exhibit is drawn from the John Milton and Ruth Neils Ward Collection and is guest-curated by John Milton Ward. Notable in the exhibit is a score published in 1808 with a title scrawled in a cursive hand, "O Dolce Concento, A Favorite Song, Sung by Madme Catalani, in the Opera of La Frascatana Composed by W.A. Mozart." The opera, which was not composed by Mozart, demonstrates the star power of the 19th century performers. Catalani, a well-known soprano, rearranged an aria from Mozart's "The Magic Flute" and dropped it into "La Frascatana" in place of the original aria – a typical practice for popular opera singers with favorite pieces in their repertoire. In addition, a hand-colored caricature titled "John Bull Settling The Opera Disputes" illustrates theater co-owners Edmund Waters and William Taylor and their common backstage disputes over money and control; in the background Catalani sneaks away with bags of money en route to Paris.
Highlighting the theater's influence on publishing, the exhibition includes three different publications of Handel's "Otho," dating from 1723-1733, arranged for voice and orchestra, voice and piano, and flute, violin, oboe, and piano. As certain pieces, such as "Otho," became favorites, publishers began to produce them en masse, a revolutionary practice for music publishers of this period. Also in the exhibition are samples of publisher John Walsh's "The Favourite Songs in the Opera" series, published in the mid-18th century, which inserted titles of operas into a premade template to facilitate fast and easy printing.