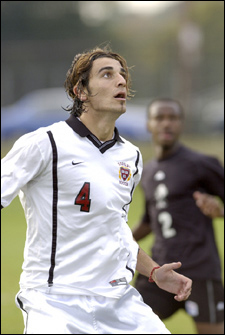 Sophomore goalkeeper Ryan Johnson registered a career-high 10 saves on Tuesday afternoon (Oct. 14) to preserve a 3-0 shutout against visiting Holy Cross (1-8-1). With the win, Johnson – ranked second in the Ivy League in the number of goals allowed per game (.84) – earns his third shutout of the season. Still unbeaten at home with a five-game win streak, men's soccer improves to 5-3-3 (0-1-1 Ivy) on the season.
Senior All-American Kevin Ara paced the Crimson attack with a goal and an assist. Less than five minutes into the first period, Ara dribbled through a host of Crusaders before finding the back of the net with a shot past goalkeeper Richard Whipple (seven saves). The Crimson's Ladd Fritz '04 and Pablo Koe-Krompecher '05 followed suit in the second period, chipping in a goal apiece: a season first for Fritz, and career first for Koe-Krompecher.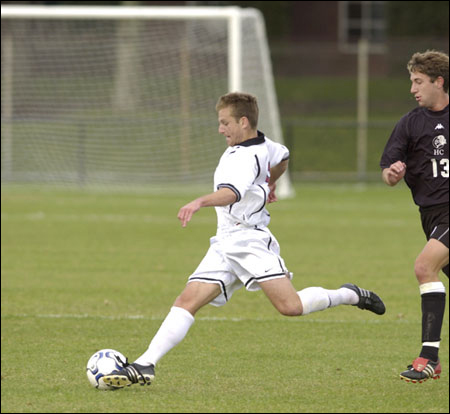 Harvard returns to action on Saturday (Oct. 18) when the team hosts Ivy rival Brown. Kickoff is at 11 a.m.