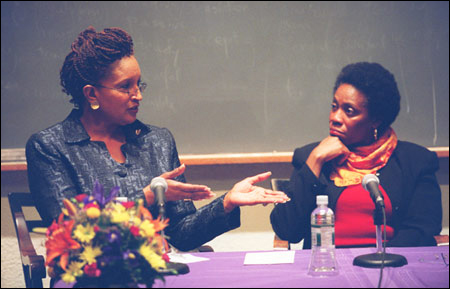 In July 2000, when the Right Rev. Vashti McKenzie was elected the first female bishop in the 213-year history of the African Methodist Episcopal (AME) Church, her reaction made national headlines. "The stained-glass ceiling has been pierced and broken," she said after the bishops and elders of her church had placed their hands on her head in blessing. And indeed, her election to serve the 18th Episcopal District of the AME Church, which includes the four sub-Saharan African countries of Lesotho, Botswana, Mozambique, and Swaziland, was hailed as a symbol of hope and change for the oldest and one of the largest historically black denominations.
But when McKenzie spoke to an audience at Harvard Divinity School (HDS) recently as part of a series called "Preaching, Prophesy, and Practice," she said she didn't really feel like a bishop the day she was ceremonially installed with a purple robe and ring, or even as she presided over her first annual conference. Rather, the woman once voted at the top of an Ebony magazine list of the 15 greatest African-American female preachers said, "When I was in the back of the pickup truck going up the mountain to visit this tiny little out-of-the-way church in my district with no electricity and no running water … to go into a church that's put together by mud and sticks and go to worship, and a little old lady walks up to you and she says, 'All my life, I have never seen a bishop and the first one I see is a woman,'… then I felt like I was a bishop in my church."
---
Leontine Kelly and Barbara Harris will celebrate the Eucharist today (Oct. 16) at 5:15 p.m. in Harvard Divinity School's Andover Chapel.
---
McKenzie made her remarks at an Oct. 1 panel discussion at HDS that kicked off a special series co-sponsored by the Office of Ministerial Studies at HDS and the Center for African American Religious Research and Education at Boston University School of Theology. The series, which will bring two other "first" black women bishops to campus this week – Leontine Kelly, a retired United Methodist bishop, and Barbara Harris, also retired, who was the first woman bishop in the Episcopal Church – is a tribute to the late Rev. Dr. Prathia Hall, a renowned and beloved pastor, professor, and civil rights leader, who died in 2002. Kelly and Harris will celebrate the Eucharist today (Oct. 16), at 5:15 p.m. in the Harvard Divinity School's Andover Chapel.
McKenzie – who holds a B.A. from the University of Maryland, an M.Div. from Howard University School of Divinity, and a D.Min. from United Theological Seminary in Dayton, Ohio – spoke with great passion about the challenges and triumphs of her work under way on the African continent. Talented preacher that she is, she used four words as jumping-off points – repair, rebuild, reach, and strength – to define her ministry to increase the technological and economic capacities of communities; to provide education, training, and health services, and to build on spiritual strengths. McKenzie described areas ravaged by floods, AIDS, and extreme poverty but said she has also seen firsthand how "the human spirit is very difficult to kill."
"I've watched the strength of these people in all four countries," she said, "and I'm just amazed."
For her leadership, McKenzie has earned an African name that means "the mother who holds the sharp end of the knife." The name comes from the biblical story in which Solomon has to make a decision about the ownership of a child between two mothers, and he identifies the real mother as the one who would rather her child live than to see the child destroyed. "It means that the real mother has come, to see to the needs of her children," McKenzie explained.
McKenzie said she has not experienced sexism from the people in her church, but only occasionally in the broader community. For instance, she still doesn't have residency in Lesotho because she has to prove that she is "a married woman with an outstanding character." She explained: "Men don't have to prove character and they don't have to prove they're married." Because Lesotho will only accept her marriage certificate as proof, and she and her husband have been married for so long that they have no idea where it is, she has to travel periodically and get her visa renewed.
Such annoyances, however, are far outweighed by the hospitality she has experienced from people throughout her district and by her wonder at their determination and resilience. "When you see the depth of poverty, when you see the challenges that people face, and yet the kids are in school on time at 7:30 a.m. with their uniforms pressed, ready to do a good day's work," she said. "They've done their homework by candlelight the night before, taken care of the chickens, the cows, the pigs, the goats, and walked miles for water to leave their family intact before they go to school."
As for the widespread perception that the people she serves are deprived compared with Americans, McKenzie said she has come to feel almost the opposite. "They don't have television, cable, e-mail, computers, or designer jeans and sweaters," she said. "But they have a quality of life that we do not have here in the United States, and I'm envious. I wish we could have the kind of quality of life that's not based on possessions and wealth, but on relationships connected by a bond of love and faith, devotion and loyalty. You can't buy it, but they've got it. And we who have everything, have nothing at all.
"We think we have to have all of this to have church," the bishop concluded, "but I've had good church under a tree. The spirit is high under a tree."