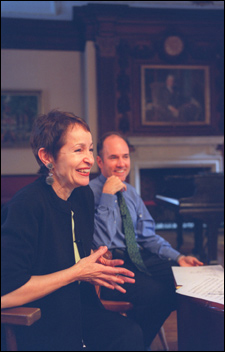 Richard Cozzens '07 has written a love duet in which a man who has gone to the moon to be with his lover realizes that he cannot love her away from the Earth.
"I'm not sure what to say," Lynn Ahrens tells him after the song has ended. "It's beautiful, sensitive, exquisite, but I don't understand why he can't love her on the moon. It seems very abstract."
Cozzens explains that the song is from a musical comedy he has written, based on a short tale by Italo Calvino.
"That makes sense," Ahrens says. "I thought there was something Italian about it."
Ahrens was at Harvard last week with her writing partner, composer Stephen Flaherty. Together, they have created a succession of award-winning shows, including "Ragtime" (based on the E.L. Doctorow novel), "Once on This Island," "Seussical" (based on the works of Dr. Seuss), "Lucky Stiff," "My Favorite Year," "A Man of No Importance," and the songs for the animated feature "Anastasia."
On Oct. 8, they talked about their work and answered questions. The following day, they conducted a master class for aspiring songwriters like Cozzens. The events were sponsored by the Office for the Arts' Learning from Performers Program.
One by one, the young performers walked to the front of the Winthrop junior common room clutching their sheet music and sang their songs for the two visitors, who seemed the most unintimidating of judges.
"We'd love to spend a half hour talking to each of you," said Ahrens, "but unfortunately we have a plane to catch, so this is going to be a swift and hopefully cogent critique of what we hear. We're very kind, and we're very honest, too. We won't pull any punches."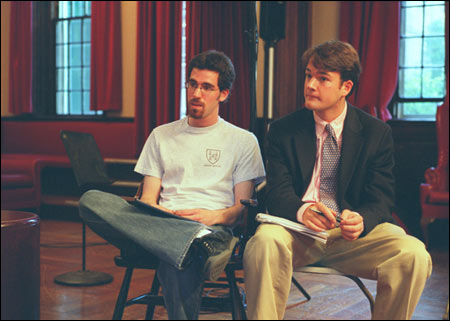 Matthew Cantor sang a love song, too, accompanying himself on the guitar. Somewhere around the second verse, it became clear that it was in fact a love song to his guitar, something that Flaherty found refreshing.
"I don't think I've ever heard a song before where a guy is singing to his instrument."
The two disagreed slightly on this one. Ahrens thought some of the song's specific guitar references should be taken out, while Flaherty thought the song was fine just the way it was.
"Of course, it's entirely up to you," said Ahrens. "What we say is all blah, blah, blah. You can just throw it out the window if you want."
Matthew Corriel '05 sang a song he had written with Robbie Pennoyer '05, a nostalgic ballad to an absent lover. The song was their first collaboration.
"I thought there were times when the music and lyrics came together so beautifully," Flaherty said. "There were some really terrific chord progressions in this, where you're playing with the concept of tension and bass movement. It's as if you're leading the hearer on a surprising journey."
---
The next Learning from Performers program is a master class with Patti LuPone on Oct. 24. The Tony Award-winning actor/singer will conduct a master class featuring student vocalists from Harvard and Brookline High School. Harvard affiliates and the general public are invited to observe. The class kicks off at 3 p.m. in Paine Hall. Admission is free, but tickets are required. Tickets (limit two per person) are available through the Harvard Box Office at (617) 496-2222.
---
"It's amazing to me that this is your first song," said Ahrens. "You ought to hear our first song. I wouldn't play it in mixed company."
The day before, Ahrens and Flaherty spoke about how they met at a musical theater workshop and found that their styles clicked. Flaherty had been supporting himself as a professional musician while dreaming of devoting himself full time to composition. Ahrens had written advertising copy and TV jingles. "What Would You Do for a Klondike Bar?" was one of her most notable efforts.
There were a number of setbacks before the two achieved their first success. Their first show was a musical version of the movie "Bedazzled," but the project fizzled when they were unable to acquire the rights to the film. Next, they tried basing a musical on a news item about a man who gave away land to people who would help repopulate a dying North Dakota town, but the idea resisted their best efforts to breathe life into it.
The payoff came with "Lucky Stiff," which opened off-Broadway in 1988 and received the Richard Rodgers Award and Washington's Helen Hayes Award as Best Musical. The show is a musical farce about a shoe salesman who escorts his uncle's corpse to Monte Carlo in order to inherit a fortune.
But despite the success of this show, the pair resisted adopting a formula. "Once on This Island" deals with the history and culture of Trinidad, while "Seussical" weaves together stories from "The Cat in the Hat," "Horton Hatches a Who," and other Dr. Seuss classics. Their biggest critical and popular success, "Ragtime," crowds the stage with multiple characters and storylines, while their newest show, "A Man of No Importance" is a somber character study set in contemporary Dublin.
Their next project, Ahrens revealed, tells the story of a slave revolt in the pre-Civil War South. As to where their ideas come from, she expressed an optimistic fatalism.
"Something always bubbles up. You have to remain open to the cosmos. Wonderful ideas will find you eventually."