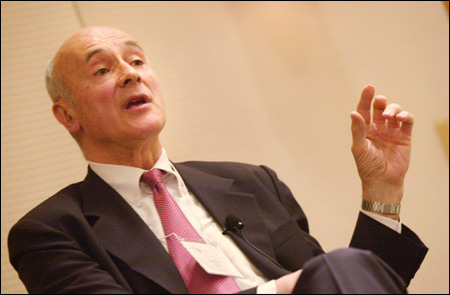 Dean Joseph S. Nye Jr. announced today to the faculty of the John F. Kennedy School of Government that he intends to step down as dean effective June 2004. Nye said his years as dean have been gratifying and that he looks forward to continuing his work as a member of the School faculty.
Nye became dean in December 1995. "It was the aftermath of the bombing of the federal building in Oklahoma City that led me to accept the role of dean of the Kennedy School of Government," said Nye. "I was worried about what was happening to public life in our country. Since then, this School has trained thousands of public leaders and created knowledge that helped to improve public policies. It is a decision I have never regretted."
Harvard President Lawrence H. Summers praised Nye for his years of service to the Kennedy School.
"As dean of the Kennedy School, Joe Nye has embodied the qualities of enlightened leadership, the commitment to excellent education and scholarship, and the devotion to effective public service that are the hallmarks of the School itself," said Summers. "As a member of the Harvard faculty for nearly four decades, he has been an eminent scholar of international affairs, a greatly valued teacher, and someone whose insight, perspective, and voice of reason have consistently made Harvard wiser and better.
"Under Joe's guidance, the Kennedy School has expanded and strengthened its faculty, educated a new generation of outstanding public servants, advanced Harvard's pursuit of interdisciplinary and international initiatives, and contributed in innumerable ways to the development of informed public policy at home and abroad. For all that and more, we owe Joe our warm admiration and thanks," added Summers.
During his tenure as dean, Nye expanded and diversified the Kennedy School faculty and recruited a significant number of world-class scholars to its ranks. The overall core faculty increased by more than 40 percent; the number of tenured and tenure-track female faculty has nearly doubled; the number of minority faculty has risen by 50 percent. The School added 13 new endowed professorships and established five new research and policy centers on public leadership, the nonprofit sector, democratic governance, human rights, and international development. Nye also established the School's Women and Public Policy Program. The Kennedy School's endowment has tripled under his leadership. In addition, Nye oversaw a significant increase in the Kennedy School's scholarly productivity, rendering it the pre-eminent school of public policy.
In addition to the growth in faculty, Nye made significant improvements to the students' educational opportunities. The Kennedy School became the most international school at Harvard and launched a new program for a master's of policy administration in international development. Recognizing the difficulties students face in choosing careers in public service, Nye implemented a loan forgiveness program for students choosing to pursue public service after graduation. He increased financial aid, established stronger connections to government and NGO offices, dramatically improved the technology and computer capacities of the School, and increased the number of joint degrees and cross-listed courses in the curriculum. Nye also instituted public service fellowships that provide tuition and other support for 30 Kennedy School students each year. Kennedy School graduates consistently outrank other schools in the competitions for prestigious White House fellowships and presidential management internships, and with Nye's urging, the number of alumni who have run for public office has dramatically increased. Numerous graduates of Kennedy School degree programs have served in the U.S. Congress, and many serve as parliamentarians and ministers in foreign countries.
Shortly after becoming dean, Nye launched the Visions of Governance Project in order to "get a better sense of the changes in the world of governance where our graduates would work." A series of annual faculty conferences have produced six edited volumes since 2000. The final volume, "For the People: Can We Fix Public Service?", looks at what those changes mean for the future of public service and the implications for what and how we teach our students.
Nye joined the Harvard faculty in 1964, serving as director of the Center for International Affairs and associate dean of Arts and Sciences. From 1977-79, Nye was deputy to the undersecretary of state for Security Assistance, Science, and Technology, and chaired the National Security Council Group on Nonproliferation of Nuclear Weapons. He served as assistant secretary of defense for International Security Affairs, in which position he won two Distinguished Service medals, and as chair of the National Intelligence Council. He returned to Harvard to be dean of the Kennedy School in December 1995.
In August, Nye received the 2003 Charles E. Merriam Award from the American Political Science Association, which honors a person "whose published work and career represent a significant contribution to the art of government through the application of social science research."
Nye's most recent books are "The Paradox of American Power" (2002) and "Understanding International Conflicts," (fourth edition, 2002). Nye received his bachelor's degree from Princeton University. He did postgraduate work at Oxford University on a Rhodes Scholarship and earned a Ph.D. in government from Harvard. Nye will remain on the Kennedy School faculty and continue to teach, conduct research, and write.
Summers plans to launch a search for a new dean as soon as possible. His outreach will include appointing a faculty committee and consulting with friends of the University, alumni, and public leaders to discuss priorities.