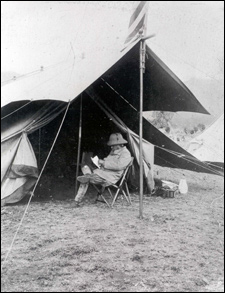 When Theodore Roosevelt left the presidency in 1909, he went on safari to British East Africa, toting gear, provisions, and a 60-pound aluminum carrying case full of his favorite books. The new exhibition in the Theodore Roosevelt Gallery, Pusey Library – "Roosevelt Reading: The Pigskin Library" – highlights this famed literary collection.
As Roosevelt prepared to go on safari, his sister Corinne Robinson asked him what he wished to have as a travel gift. A famously omnivorous reader, he asked for a selection of his favorite books bound in pigskin, to protect them against the rigors of the hunt and the tropical environment. The Pigskin Library, as it was known from the beginning, consisted of at least 55 volumes (the number currently in the collection) including such works as "The Iliad," "The Odyssey," "Faust," "Don Quixote," and poetry by Keats and Shelley.
A facsimile of the title page of each book in the Pigskin Library is represented in the exhibition, along with a replica of the original aluminum case. Photographs of Roosevelt on safari, letters from the trip, and a series of images depicting Roosevelt reading throughout his career are also featured. The originals, frail and of great significance, are housed in Houghton Library.
Upon Roosevelt's return to America, the Pigskin Library was given to his daughter Ethel, who in turn gave it to one of her own daughters, Sarah Alden Derby Gannett, who died in 1999 and bequeathed it to the Harvard College Library's Theodore Roosevelt Collection.
– Paula Carter/HCL communications