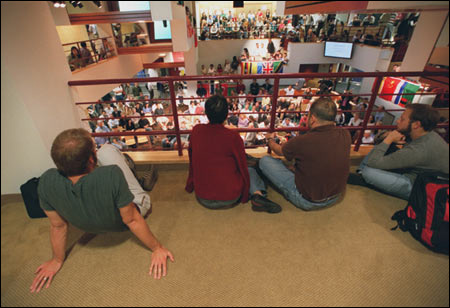 Two years after the attacks of Sept. 11, 2001, America is no less vulnerable to terrorism than it was a year ago and hardly better prepared to respond to another attack, said a panel of the University's foremost authorities on terrorism at a Kennedy School of Government (KSG) panel Sept. 10.
"I believe that the risk of a major terrorist attack on the U.S. in the twelve months forward is at least as high as it was in the past twelve months," said Graham Allison, director of the KSG's Belfer Center for Science and International Affairs, a sponsor of the panel. Joining Allison were Harvard Law School professor Philip Heymann; Arnold Howitt, executive director of Kennedy School's Taubman Center for State and Local Government; Belfer Center Senior Fellow Juliette Kayyem; KSG lecturer Jessica Stern; and KSG Dean Joseph S. Nye Jr., who served as moderator.
Nye likened the events of Sept. 11 to a flash of lightning that illuminated a landscape forever changed. Features of that new landscape, he said, include increased globalization and technical and information revolutions that help put the instruments of war into the hands of private individuals and small groups.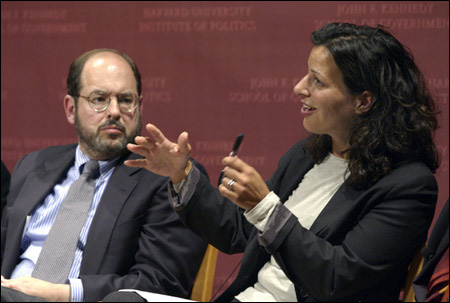 "Globalization has a dark side, and America no longer has oceans to protect it," he said.
Allison, who was assistant secretary of defense under former President Clinton, delivered what he called an objective, analytical – and decidedly sobering – assessment of our nation's safety from terrorist attacks. Constructing a literal report card for the war on terror, Allison concluded that America is barely making passing grades.
While the U.S. government has taken a number of major actions in the past year to strengthen our defenses, including the creation of the Department of Homeland Security, and to capture terrorists abroad, the capabilities and motivations of terrorists who may want to attack us have gathered strength, he said.
Allison gave a "D" to the nation's effectiveness at preventing nuclear and biological terrorism. "The good news is Saddam is gone from ruling Iraq," he said. "The bad news is that Saddam has gone missing, and with him, whatever weapons of mass destruction he may have had." In addition, Osama bin Laden is still on the lam and North Korea is "the wildest card in this pack," he said.
"The likelihood of a nuclear or biological terrorist attack on the U.S. is certainly not lower than it was 12 months ago," said Allison.
Homeland preparedness
The language and methods of war are inadequate to defeat terrorism, said Heymann, who is the James Barr Ames Professor of Law, adding that this "war" on terrorism has no single enemy and no coherent strategy. In addition, Heymann guessed, Americans will not be able to sustain support for a war over the decades that it may take to eliminate the threat of terrorism.
"We have to come to terms with it in a way that's acceptable to American ideals and to American liberties as well as guaranteeing security," he said.
Howitt and Kayyem addressed our nation's preparedness to greet a terrorist attack with effective, coherent services. Like Allison's dire report card, their assessment noted some progress but lots of room for improvement.
"However much improvement we've seen, there still is the need for many new steps, and those steps are much tougher than the ones we've taken so far," said Howitt of the emergency response capabilities of states and localities. Inhospitable organizational and fiscal conditions may hinder future progress, he said, and we need stronger federal leadership in the form of policy and fiscal incentives.
Emergency response must, like the emergencies themselves, cross geographical boundaries and be regional in scope, he said, requiring new levels of diplomacy among governments.
Kayyem analyzed the effectiveness of the Department of Homeland Security through the lens of the Pentagon's controversial and recently abandoned Futures Market Applied to Prediction (FutureMap), which sought to use market forces as a tool to predict terrorist attacks and assassinations in the Middle East.
"Behind FutureMap, I think, lies a bigger story," she said, one that illustrates some of the failings of the Department of Homeland Security (DHS) to oversee our nation's domestic preparedness planning.
"FutureMap showed the seeming independence of each agency to draft its own agenda and the inability of DHS to have any control over … an $8 million idea," she said. "This is troubling."
Further, Kayyem said, DHS has failed to prioritize its own agenda and is not doing enough to ensure concerns of privacy, civil rights, and liberties are taken into account.
Terrorists at head of the class
Stern, author of "Terror in the Name of God: Why Religious Militants Kill," gave the terrorists a report card, assigning them high marks. "We are fighting a very flexible enemy," she said. "This is a learning organization."
Al Qaeda, she said, has shifted its mission, even aligning itself with neo-Nazis and white supremacists who are sympathetic to its new focus of fighting a "new world order."
"We know that Al Qaeda is very, very good at finding people who have the right passport and speak the right language" to facilitate a terrorist attack, she said. "They are finding new allies and new sources of recruits."
In addition, Stern claimed that the instability of Iraq since our attack there has aided terrorist groups. "The perception of an inept occupation, the intense frustration, has really helped terrorists," she said, calling the situation in Iraq a gift to bin Laden. "Failed states are very important to terrorist groups like Al Qaeda."
The panel was the inaugural event at the KSG's newly renovated Forum, which will be rededicated as the John F. Kennedy Jr. Forum next week. On the eve of the second anniversary of the Sept. 11 terrorist attacks, Nye recalled how the KSG community gathered at the forum the afternoon of Sept. 11, 2001, for the first of what would be many discussions on the changing landscape of American security.
"This forum is a place where the community can come together and do what we know how to do, which is try to reason about what's happened," said Nye.