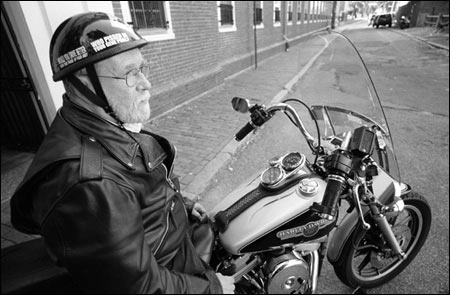 Photo by Kris Snibbe
James Coveney has been riding motorcycles since he was a teenager, but after all these years it's still one of the biggest thrills in his life.
"On some days, it can almost border on being a religious experience. There's a sense of freedom, an enjoyment of the open road that you just don't get on four wheels."
Every day, weather permitting, Coveney rides his 1992 Harley-Davidson Dyna Glide from his home in Leominster to his job as superintendent of Lowell House, a position he's held for almost 20 years.
Weekends might find him taking part in a charity ride to raise money for Ginny's Helping Hand, a local assistance program, or the Marine Corps' Toys for Tots drive. As director of the Leominster Harley Owner's Association, Coveney has helped to organize many charity events. Or, if there's no specific activity scheduled, he might just take off with some of his Harley-owning buddies to lay down rubber on the back roads of New Hampshire.
So what is it about Harleys? Why do Coveney and so many others regard them as the ultimate riding machine?
Well, first of all, they're American-made, he explains. And the company is one of the oldest motorcycle manufacturers in the world. In fact, 2003 is the 100th anniversary of the founding of the Milwaukee firm by William S. Harley and Arthur Davidson.
"They built the first Harley in a shed smaller than this office," Coveney says, spreading his arms to take in the crowded cubicle from which he oversees the physical needs of the sprawling undergraduate residence.
Coveney has a wealth of other Harley facts at his command. Did you know that the sound of a Harley motor has been patented, as has the word "Hog," or that the Harley-Davidson logo is the second most popular tattoo in the world, after "Mom"?
But Coveney is no Harley snob. After all, Harley riders accepted him back when he was starting out and the only bike he could afford was a stripped-down Honda. Now Coveney imparts the same democratic message to his own son, whose financial situation makes the purchase of the prestigious American machine a somewhat distant dream.
"I tell him it doesn't matter what he rides. I don't discriminate against other kinds of bikes."