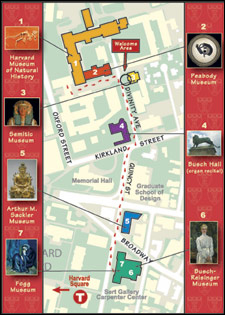 The treasures of Harvard University's six museums – from fine art to flowers of glass, tarantulas to dinosaur eggs, prehistoric pottery to 20th century masterpieces – are priceless. But on Sunday (Sept. 28), they'll also be free, at the first-ever Harvard University Museums Community Day, an open house from 1 to 5 p.m.
The University's three art museums – the Arthur M. Sackler Museum, the Busch-Reisinger Museum, and the Fogg Art Museum – plus the Harvard Museum of Natural History, the Peabody Museum, and the Semitic Museum will throw open the doors to ongoing exhibitions and special events.
"Harvard's museums are rich cultural and historical resources for the local community as well as for our students and the worldwide community of scholars. We look forward to welcoming our neighbors, young and old, to reacquaint themselves with the museums or to discover them for the first time," says Alan Stone, vice president for government, community and public affairs for Harvard University.
Special events will mark the open houses at the museums, which span several blocks on the north end of Harvard's Cambridge campus. Visitors can hear recitals by members of the Harvard Organ Society on the famous D.A. Flentrop Organ in Adolphus Busch Hall, take a sneak peek at an upcoming exhibit on ancient Israel at the Semitic Museum, or get to know a hedgehog or a snake at the Museum of Natural History's "Creature Features."
In addition, the museums will offer complimentary trial memberships at any or all the museums, good for free admission and other discounts and special events until Dec. 31. Maps will be available at all six museums.
Highlights of free museums day include:
A welcome tent on Divinity Avenue will begin giving away maps, brochures, cold drinks, and other items at 1 p.m.
Organ recitals by student members of the Harvard Organ Society and Harvard University staff members on the D.A. Flentrop Organ every half hour beginning at 1:30 p.m., in Adolphus Busch Hall, 29 Kirkland St.
"Creature Features" – hands-on participation with live animals such as snakes, tarantulas, hedgehogs, and frogs at 1 p.m., 2:30 p.m., and 4 p.m. at the Harvard Museum of Natural History, 26 Oxford St. The Museum of Natural History presents the collections and research of the Harvard University Herbaria, Mineralogical Museum, and Museum of Comparative Zoology and is home to the renowned Glass Flowers, a 42-foot-long prehistoric Kronosaurus, and a fascinating hall of mammals.
Preview tour of the upcoming exhibit "The Houses of Ancient Israel: Domestic, Royal, Divine" (opening Nov. 12) at 2 p.m. and 4 p.m. at the Semitic Museum, 6 Divinity Ave. The exhibit explores everyday life in Iron Age Israel (ca.1000-600 B.C.) and features a full-scale replica of a fully furnished, two-story village house. A tour of the "Nuzi and the Hurrians" Mesopotamian exhibit and "Ancient Cyprus" gallery is offered from 2:30 to 3:30 p.m. Founded in 1889, the Semitic Museum holds artifacts that comprise over 40,000 items, including pottery, cylinder seals, sculpture, coins, and cuneiform tablets, many from museum-sponsored excavations in Israel, Jordan, Iraq, Egypt, Cyprus, and Tunisia.
Gallery talk – "Where Traditions Meet: Painting in India from the 15th through the 17th Century" – by James McHugh, Ph.D. candidate in Indian and Sanskrit Studies, at 2 p.m. at the Arthur M. Sackler Museum, 485 Broadway. The Sackler Museum opened in 1985 to house Harvard University's holdings in ancient, Asian, Islamic, and Later Indian art and currently boasts the world's most important collection of ancient Chinese jades, rare groups of Persian and Indian miniatures, Japanese prints, Korean ceramics, Greek and Roman sculpture, and ancient coins.
"Harvard Collects American Art," works by American painters and sculptors from the Colonial period through the 20th century, including John Singleton Copley, Washington Allston, Thomas Cole, Albert Bierstadt, Winslow Homer, Thomas Eakins, John Singer Sargent, Marsden Hartley, Charles Sheeler, and Jackson Pollock; at the Fogg Art Museum, 32 Quincy St. The Fogg, established in 1895, houses masterpieces by Rembrandt, Ingres, Monet, Renoir, Van Gogh, Picasso, and other world-famous artists; an outstanding collection of drawings and prints; and a vast collection of 20th century photographs.
"Painted by a Distant Hand: Mimbres Pottery from the American Southwest," an exhibition of more than 100 prehistoric painted bowls created by the Mimbres, a pre-Pueblo farming people who lived in what is now the American Southwest from 200 A.D. until the 1100s, at the Peabody Museum of Archaeology and Ethnography, 11 Divinity Ave. The Peabody Museum is among the oldest archaeological and ethnographic museums in the world, with one of the world's finest collections of cultural history, particularly from Africa, ancient Europe, North America, Mesoamerica, Oceania, and South America.
"Basic Research: A Selection of Postwar German Painting and Sculpture," an installation of the work of Gunter Uecker, Raimund Girke, Gerhard Richter, Gunter Umberg, and Isa Gerzken, at the Busch-Reisinger Museum, 32 Quincy St. Founded in 1903, the Busch-Reisinger Museum is devoted to the art of the German-speaking countries and related cultures of central and northern Europe; it contains North America's leading collection of German Expressionist art.
For more information, contact Harvard University Community Affairs at (617) 495-4955.