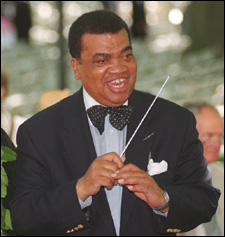 Family, friends, and colleagues of the late Archie C. Epps III, former dean of students at Harvard College, crowded the Memorial Church Sept. 4 for a funeral service that commemorated Epps' life in song, prayer, and words spoken from the pulpit by his close friend, the Rev. Professor Peter J. Gomes. Epps died Aug. 21 of complications from surgery. He was 66.
"Archie's life is an illustration of the good life lived as, from the beginning, God had meant it to be lived," said Gomes, who is the Plummer Professor of Christian Morals and Pusey Minister in the Memorial Church. "He shared that good life lavishly with us all."
Epps was unique and avoided labels, said Gomes. "So many of us have struggled to do for Archie in death what it was impossible to do for him in life: that is to place him in a convenient category," he said.
A consummate college administrator whose unfailingly dapper dress and love of music led some to call him an aesthete, Epps was also a scholar of Islam and Malcolm X, a "Du Boisian race man," wise counsel to at least three Harvard presidents, and an advocate for student life, Gomes detailed.
As a disciplinarian, he added, Epps "could give tough love in the softest of voices. One would have to read what he had said to appreciate that he had just fired you."
As much as anything, Gomes said, Epps was passionate about the ideal of Harvard as a "city on a hill."
"More than anyone I have known … Archie actually believed every word of 'Fair Harvard,'" said Gomes, referring to the Harvard hymn. "In him, all of us here find something of the best in our college's aspirations."
Epps' sons, Josiah '98 and Caleb '03, read lessons from the Bible. Assisting Gomes with the service were the Rev. Mark D.W. Edington, who is Epps Fellow, chaplain to Harvard College, and assistant minister in the Memorial Church; and the Rev. Dr. Robert W. Tobin, rector at Christ Church, Cambridge, where Epps was a longtime member.