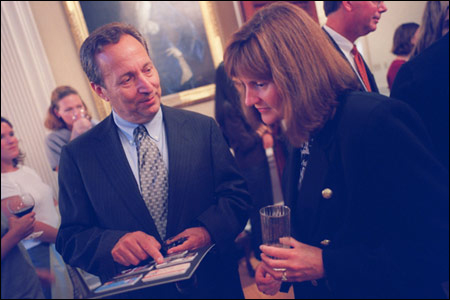 Thomas M. Reardon, a driving force behind Harvard's last two major fundraising campaigns, has announced his plans to step down this fall as the University's vice president for alumni affairs and development, while remaining active in fundraising matters as senior adviser for University development.
Reardon will be succeeded by Donella M. Rapier, now the associate dean for external relations and chief financial officer at Harvard Business School (HBS), where she has played a leading role in planning and executing the School's current campaign, the first School-wide capital campaign in HBS history.
"Tom Reardon has been a terrific leader of our extraordinary development team for nearly 30 years, the past seven of them as vice president," said President Lawrence H. Summers of Reardon, who began his Harvard career in 1975. "He let me know this summer that this seemed to be the right moment for a transition, so that his successor can have a shaping hand in the intensive planning that will precede the University's eventual next major campaign.
"I feel a personal debt of gratitude to Tom for all he has done to introduce me, as a new president, to a domain of university leadership with which I'd had relatively little experience," Summers added. "More generally, I'm extremely thankful to Tom for his decades of outstanding effort on Harvard's behalf, and to everyone in our alumni affairs and development world who has worked with him to help Harvard thrive. We're fortunate that we will continue to benefit from Tom's close involvement and advice as we move ahead."
"It has been a privilege to serve Harvard in this role," said Reardon. "There is no better group of professionals nor more generous and dedicated alumni anywhere. With Larry Summers' leadership and the enormous talents of Harvard's faculty and students, exciting opportunities lie ahead. And with Donella Rapier's skillful guidance and the dedication of our alumni leaders and staff, Harvard will lay the building blocks that will ensure it has the financial resources it needs to meet the challenges of the years to come."
Rapier is an alumna of HBS and has served as a senior administrator there since 1996. Recently, she has been a key figure in formulating the School's development strategy, extending its alumni outreach, and orchestrating the ongoing HBS campaign, which has raised more than $360 million toward its $500 million campaign goal.
"Continuity is a critical factor in our development efforts," Summers said, "and Harvard is fortunate to have someone of Donella Rapier's talent, energy, and organizational skill to lead our future efforts. She is admired by colleagues and alumni for her creative and successful management of the Business School's external relations. She is an unusually versatile and effective administrator, devoted to the interests of the University as a whole. And she is someone whose knowledge of Harvard, its finances, and its fundraising opportunities and needs will position her well to fulfill this vital role."
Said Rapier: "I am exceedingly grateful for this opportunity to work closely with President Summers, Provost Hyman, and colleagues across the University to help advance Harvard's goals. This is a time of tremendous potential. The University has an ambitious set of priorities, including renewing the undergraduate experience, extending our work in the sciences, encouraging public service, and developing a new academic community in Allston. As we pursue these and other priorities, I look forward to the close engagement of our alumni and friends, whose extraordinary involvement and devotion over the years has done so much to shape the University's future. I also look forward to learning all I can from Tom Reardon, who has served Harvard and its alumni so well."
Reardon, a 1962 Holy Cross College graduate who served as press secretary to former Massachusetts Gov. Francis Sargent, came to Harvard in 1975 as a fundraiser for the Kennedy School of Government. He became director of University Development in 1979. In that capacity, he played a central part in mounting the Harvard Campaign that extended from 1979 to 1984.
Reardon became vice president for alumni affairs and development in 1996. He was a key architect and leader of the University Campaign that concluded in 1999, raising an unprecedented $2.6 billion for Harvard. He has also overseen major initiatives in alumni affairs, as the University has sought to connect more directly and regularly – including electronically – with its more than 250,000 alumni.
Rapier, who will take up her new duties on Oct. 6, joined the HBS administration in 1996, as the School's chief financial officer, serving as the senior financial adviser to the dean on matters of financial policy and resource allocation, and responsible for strategic management of the School's financial activity. In 2001 she assumed the additional role of associate dean for external relations, with overall responsibility for alumni outreach, communications, and fundraising, including the current campaign.