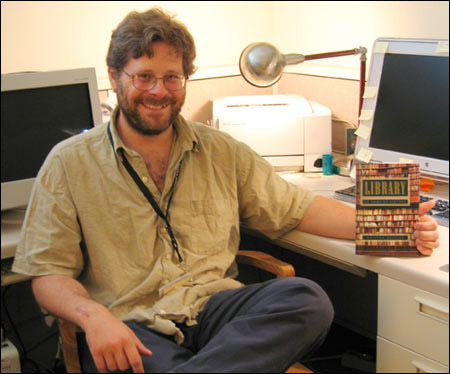 Roaming the stacks of Widener Library as a selector for the HD Push Project – which processed books for transfer to the Harvard Depository – Matthew Battles, mesmerized by rows and rows and rows of volumes, began to ponder his surroundings – the library. With Widener as an ever-present muse and a valuable resource, Battles undertook researching the history of libraries and now, four years later, has published "Library: An Unquiet History" (W.W. Norton & Co., 2003), which explores how libraries have accumulated, preserved, shaped, inspired, and obliterated knowledge.
"Libraries have always been important to me. I can remember spending summers in my small hometown library reading for hours. And that is really what I am interested in, how libraries interact with people. I didn't want to write a dry history of library facts, I wanted to look at the interplay between knowledge and cultures," said Battles, coordinating editor for the Harvard Library Bulletin at Houghton Library.
Battles' ruminations about the library first took shape as an article, "Lost in the Stacks: The Decline and Fall of the Universal Library" published in Harper's Magazine in January 2000. A literary agent read the piece, contacted Battles, and asked him if he thought he could turn it into a book, an idea Battles had already been considering. It took him a little over two years to complete his draft, during which he moved from the HD Push Project to the Harvard Library Bulletin.
"Library: An Unquiet History" explores the creation of libraries, beginning with the clay-tablets of ancient Mesopotamia, and proceeds to the destruction of libraries, culminating in the wars of the 20th century that shamelessly wiped out entire collections. Battles examines the two competing notions of the library's mission: the library as temple for the best and most beautiful works, and the library as a place where all knowledge is brought together under one roof. He looks at the library in Islam, in the Roman Empire, and in the Middle Ages, across centuries and cultures.
The book ends where it began, in the Widener Stacks. Battles notes, "Much has changed among the massed millions of books in Widener Library since the first time I lost myself in the stacks." He continues, saying the stacks "inspire more books, goading us [authors] to finish them, to complete the set, to add another book to the collection." And Battles will. He is currently working on two new books, one documenting the history of Widener Library and the other the history of writing.