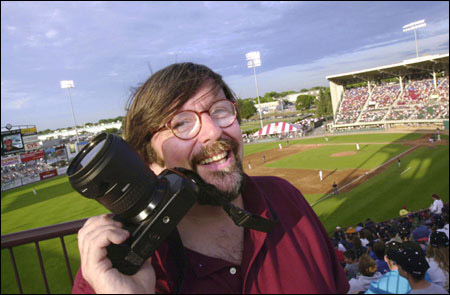 Photo by Jon Chase
"Hey mister, are you somebody?"
That's what kids call out to Bill Chapman when they see him roaming the infield, camera slung around his neck, at Pawtucket's McCoy Stadium.
Chapman, a staff assistant at Harvard's Fogg Museum and staff photographer for the Pawtucket Red Sox, is not usually the "somebody" the young fans seek for autographs. Rather, he's on the scene for the same reasons they are: to find "somebody" – a fan or a mascot or a young Nomar Garciaparra – to be a subject for his photographs. A Brookline native who's been a baseball fan "since the T cost a nickel and Red Sox tickets were 50 cents," Chapman has been telling baseball stories through images for nearly 10 years. He's focused his lens largely on the minor leagues, and in particular the PawSox, as the Red Sox's Rhode Island AAA farm team is known to its fans.
"I find them a lot more real than going to a major league park," he says, noting that the ticket prices – just $5 for general admission to McCoy Stadium – make minor league games the kind of family-friendly sports entertainment major league ball has long ceased to be. "There are no hidden agendas. They're doing it for the community," he adds.
Chapman credits his job at the Fogg, where he oversees operations of telephones, copy machines, and off-site parking, with introducing him to some essential principles of exhibition and providing the flexibility his baseball duties demand. He insists that photography will remain an avocation. "I've never had a job being a photographer. I keep it separate," he says. "When I pick up a camera, it's because I want to."
Still, Chapman has seen some fame and recognition for his work. Thirty of his PawSox photos are on permanent display in the New England Sports Museum at the Fleet Center. And he is proud that his photographs accompany sports journalist Howard Bryant's recent book on racism and the Red Sox, "Shut Out: A Story of Race and Baseball in Boston" (2002).
Chapman strays from Pawtucket each year to travel to two minor league parks; this summer's trip took him to Memphis, Tenn., and Birmingham, Ala. The ballparks, players, and fans he encounters along the way have deepened his love for the sport. "The longer I'm on the baseball road, the better it gets," he says. "I'm trying to go back to a better time."