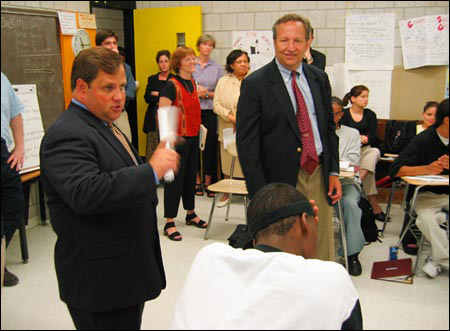 Cambridge Mayor Michael Sullivan joined Harvard President Lawrence H. Summers at Cambridge Rindge and Latin School (CRLS) on Aug. 1 to celebrate Harvard's contribution of more than $500,000 to a variety of programs, agencies, and organizations that are helping advance the common goal of learning in Cambridge.
The event was centered around the Cambridge Harvard Summer Academy, a five-year educational enrichment partnership between Harvard and the city of Cambridge that has linked Cambridge teachers and Harvard Graduate School of Education (GSE) students with more than 400 local teenagers. The academy is among more than 20 Cambridge programs, organizations, and agencies to receive Harvard funds to support literacy and jobs for youth, summer school, professional development for teachers and administrators, community center activities, social services, and learning through culture and the arts.
On a tour of the academy, Summers became "teacher" when he and Sullivan stopped by a chemistry class. With a chemical equation on the chalkboard behind him, Summers pointed out the link between chemistry equations and their applications – including the production of clothes, floor material, and life-saving drugs. Later, Summers and Sullivan took the reins of a history and civics classroom led by Steve Ford and his interns, encouraging a lively debate on the right to use force.
The event highlighted Harvard's place among the many organizations, programs, and services that contribute to the rich fabric of Cambridge. The program was introduced with singing and a dance performed by youngsters with the Phillips Brooks House Association's Cambridge Youth Enrichment Program. This program is organized and run entirely by Harvard and other college students and provides summer activities for neighborhood youth.
"Harvard is an institution dedicated to education," said Summers. "We have a wonderful partner in the mayor and are proud of the initiative our students show in working in the community on a range of education challenges."
Sullivan recognized the spirit of collaboration that has drawn a wide range of the city's resources to address the educational and literacy needs of the community.
"Further collaboration, working together – Harvard, the city, and the organizations here today – this is the partnership we are talking about," said Sullivan, a strong advocate for literacy in the community who thanked the organizations present for their efforts. "This partnership is about us working together for the future of our kids and for the future of our community. This collaboration is about making a difference."
Interim Schools Superintendent Carolyn Turk later echoed the mayor's observations: "We hear a lot of talk about 'partnerships' but what I see is a local university doing its part for the community, with a sincere interest in supporting young people and adults," said Turk. "Education is everybody's business and today is a testament to that fact."
This summer's grant recipients include:
Cambridge Harvard Summer Academy, which, in its third year has grown from 40 to 74 college interns and serves twice as many high school students (from 200 to 420 students) as when it began
Cambridge New Teacher Training Mentorship Program will prepare professionals with industry experience in science and other disciplines for classroom teaching. This initiative is a collaboration between the Science Coordinator, the Cambridge Professional Development Department, and Harvard GSE Teacher Education Department.
Museum of Natural History Science Education outreach programming
Cambridge School Volunteers to assist their work in the schools
Agenda for Children through the Cambridge Community Foundation
Mayor's Summer Youth and Learning Project: the Anna Devere Smith Twilight project at CRLS using docu-dramas to explore issues of race, class, and identity
Cambridge Community Center to address physical plant needs
Community Learning Center adult literacy programs
Cambridge Arts Council: Riverside Park/Boston Landmarks Orchestra Concert, July 14, 2003; Folk Cambridge River Festival 25th Anniversary; Folk and Traditional Arts pilot workshops at Fletcher-Maynard, Longfellow, Amigos, and Haggerty Schools
The Mark Ashe Community Service Fund of the Cambridge Office of Workforce Development for jobs to strengthen youth apprenticeship and job opportunities. Additionally, Harvard pledged to hire 50 Cambridge teens for summer employment.
Just A Start/Biomedical Careers Training Program
Cambridge Family YMCA
Solutions At Work
Transition House Teen Dating Violence Intervention Program at CRLS
Hildebrand Family Self-Help Center
Cambridge Community Services/City Links program, which supports and empowers immigrant youth and families
East End House
Charles River Conservancy
Cambridge Youth Enrichment Program of Phillips Brooks House Association, serving 150 children in three sites, Roosevelt Towers, Newtowne Court and Jefferson ParkAnd a fund for Children's Books for:PBHA Cambridge Youth Enrichment Program

Tobin Elementary School

Morse Elementary School

Somerville Charter School

Benjamin Banneker Charter School

Cambridge Camping Association

Community Arts Center

YWCA

Margaret Fuller House