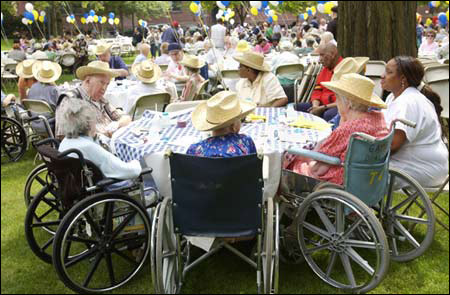 Despite forecasts to the contrary, weather held a tentative truce with Harvard's 28th annual Senior Picnic on Aug. 6, treating the 1,100 Cambridge senior citizens to a rain-free, albeit humid, celebration of friendship and community.
"We come every year, for the fun, for the fellowship, and for the food," said Myrtle Garro of the city's Area 4 neighborhood as she tucked into lunch with her neighbor, Nadine Reddick. "And for the prizes I never win," she added.
At another table across Tercentenary Theatre, East Cantabrigians Barbara Carbone and Bridget Hill caught their breath after dancing "The Pennsylvania Polka" on the steps of the Memorial Church.
"We come anywhere there's dancing," said Hill. At a youthful 92, she's a testament to the power of the polka. As classic dance tunes swung from the live band, several seniors took turns – and spins and dips – on the makeshift dance floor.
While the event, sponsored by the Office of the Mayor of the City of Cambridge and the President of Harvard University, provided a festive day out for the city's seniors, it also drew local politicians eager to connect with their constituents. City councilors, school committee members, and state representatives joined Cambridge Mayor Michael Sullivan and Alan Stone, Harvard's vice president for Government, Community and Public Affairs, for a (mostly) harmonious sing-along with the band.
Afterward, Sullivan, his sons Michael, 4, and Paul, 3, in tow, threaded through Tercentenary Theatre to greet the guests. "This is a chance to recognize our seniors," said Sullivan, adding that before former Cambridge Mayor Al Vellucci initiated the picnic in 1976, Harvard was unfamiliar turf to many of Cambridge's elder residents. Guest Myrtle Garro welcomed the opportunity to chat with her mayor but saved any concerns for another forum.
"Today is a day you just want to relax and don't want to complain," she said.
Stone shared Garro's attitude. "The only agenda is to visit with your friends, enjoy yourself, get out into the community," he said. "It's a completely carefree time. We don't have enough of it."