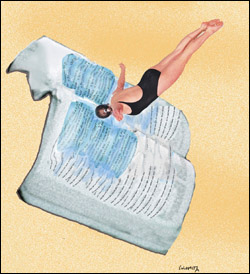 What makes a great summer? Warm weather, cloudless skies, a blanket on the sand or an Adirondack chair by the lake, and, above all, a stack of reading matter that includes all the books you meant to read all year but didn't have the time.
And since the inevitable consequence of discovering a great book is the desire to let others know about it, the Gazette is providing a forum for Harvard staff and faculty to share these discoveries with their fellow readers.
Katalin Mitchell, director of press and public relations, Loeb Drama Center, has two recommendations:
"Oryx and Crake" by Margaret Atwood
A gripping novel that offers a bleak look into what Atwood imagines to be the state of affairs in the not-too-distant future of our society and our world if we remain on the track we currently pursue. The total disregard for the needs of the planet to survive and the pursuit of genetic engineering could easily lead us where her cautionary tale points to. Atwood's marvelous sense of irony and humor makes this otherwise horrific tale hard to put down, and impossible to forget.
"Good Faith" by Jane Smiley
Another story of greed and self-delusion, but this one is set in present time, and in the real estate business. Although we pretty much have the outcome figured out from the very beginning, it is great fun watching a house of cards grow and eventually collapse – the character descriptions are keenly perceived and detailed, and easily recognizable from our everyday lives. It is the perfect light-read for the beach.
Michael Shinagel, dean of Continuing Education and University Extension and senior lecturer on English, found a couple of travel books useful on his visit to Spain:
This summer a trip to Barcelona, Spain, prompted me to read Robert Hughes' "Barcelona" (1993) and George Semler's "Barcelona Walks" (1992) in preparation for an intensive five-day visit. These books enabled my wife and me to plan in advance the sights we wanted to see: museums, cathedrals, parks. For example, a visit to Antonio Gaudi's kitschy cathedral (Sagrada Familia) was followed by a trip to Fundacio Joan Miro, where we bought the excellent "Guidebook" edited by Rosa Maria Malet and read about Miro's career, notably his commission by Walter Gropius to do a mural painting for the Harkness Commons dining hall in 1950-51 and his receiving an honorary degree from Harvard in 1968. In 1972, The Fundacio commissioned Miro's close friend Josep Luis Sert, then Harvard's dean of the School of Design, to design the museum.
Similarly, the opportunity to do reviews of "The Collected Stories of Richard Yates" (2002) and "A Tragic Honesty: The Life and Works of Richard Yates" by Blake Bailey (2003) for the Harvard Review enabled me to learn more about a neglected writer who happened to teach creative writing at the Harvard Extension School in the late 1970s. I discovered the special appeal of this talented yet tormented author, and was motivated to read several of his best novels: "Revolutionary Road" (1961), "The Easter Parade" (1976), and "A Good School" (1978). It is gratifying to see a "Yates revival" in progress a decade after his death.
Marshall Goldman, associate director of the Davis Center for Russian Studies, found fascinating insights in a book about Russia's onetime rival, the United States:
As I look at the history of the Soviet Union and now the past 12 years of Russia, I have been struck repeatedly by how hard it is to construct a governing system that is efficient, promotes economic growth, and at the same time manages to protect the rights of its citizens. This seems to be particularly difficult when a country is as large as the Soviet Union used to be and Russia is today.
While my professional focus has been on Russia, inevitably my concern set me to thinking about the United States, also a large, heterogeneous country, which on the whole seems to have been able to design institutions that have dealt with these issues effectively. Our founding fathers were so successful that we don't usually even stop to appreciate what we have – we just take it for granted.
Bernard Bailyn's collection of essays, "To Begin the World Anew: The Genius and Ambiguity of the American Founders," helped me understand how men like Alexander Hamilton, Ben Franklin, John Adams, James Monroe, and Thomas Jefferson came to grips with these challenges. Here was this group of provincial gentry far from what were then the world's leading universities and intellectual centers. What inspired them?
Bailyn argues that in many ways, their location away from Europe was an advantage. Interacting with each other in the Federalist Papers, these leaders were able to work out their ideas uninhibited by the conventional concepts of the day.
This book makes for a fascinating analysis and provided me with an appreciative perspective of another leader from the provinces who also tried to change his country's system, Mikhail Gorbachev. Unfortunately for Russia, the results so far have been far less successful.
Lesley Bannatyne, communications coordinator for the Music Department, sings the praises of:
We at the Music Department have a book group and have read several novels together over the past few months. Of these – "Balzac and the Little Chinese Seamstress" (SijieDai/Ina Rilke, lovely and great information about the Chinese cultural re-education program in practice), "The Fourth Hand" (John Irving, about a television reporter who loses his hand to a tiger and is courted by a woman who's had her dead husband's hand preserved … you can put together the pieces, so to speak), "Secret Life of Bees" (Sue Monk Kidd, a wonderful story – kind of "Little Women" meets "Poisonwood Bible"), and "The Life of Pi" (Yann Martel) – I'd say hands-down we loved "Pi." What's not to like about a guy who doesn't believe in God stuck on a boat with a Bengal tiger in the middle of the ocean for seven months?
For myself, I just read Jean-Claude Schmitt's "Ghosts in the Middle Ages: The Living and the Dead in Medieval Society" (translated from French by Teresa Lavender Fagan). It's the ultimate ghost story. Ghosts explains how people's relationship with the spirit world has changed over time, mostly depending on how much we needed ghosts, and for what – to settle disputes, soothe edgy consciences (think Hamlet) or justify religious ideas. Seems Augustine thought that the living and the dead had no relationship at all, and denied the existence of ghosts. But the church needed spirits to explain visions, so set up a sort of pecking order of ghosts: There were really powerful dead souls (the saints) who could appear and give instructions, and ordinary dead (you and me) who could not. The popularity of purgatory as a religious idea basically saved the ghost story, and out of it came cults of the dead, masses, alms, and the whole lot of things that created a fabulous otherworld. When Protestants jettisoned the idea of purgatory, ghosts became diabolic – if they weren't souls trapped in purgatory, then …
The book is academic, not at all dry, and a pleasure to read.
Boo.
Claudia Goldin, Henry Lee Professor of Economics, and Lawrence F. Katz, professor of economics, put their money on:
"The Fly Swatter: How My Grandfather Made His Way in the World" by Nicholas Dawidoff (Pantheon Books, 2002)
The "fly swatter" of this biography is Alexander (Shura) Gerschenkron, considered by some to be among the most erudite individuals to hold the position of professor at Harvard. He lived through revolutionary and tumultuous times beginning with the Russian Revolution, which deprived him of his home, and ending with the 1969 SDS sit-in of University Hall, which destroyed many of his closest relationships in the university. In the middle was his life in Austria, the rise of Nazism, his flight through the Alps, a position at U.C. Berkeley, a job at the Federal Reserve, his ideas on "backwardness" and development, and an academic life at Harvard where he trained an enormous fraction of the finest economic historians of their generation. Shura was brilliant yet he published little; he was mentor to many, yet utterly irascible. Most of all, he was an enigma to almost all who knew him. Dawidoff has discovered his grandfather for himself, for those (like ourselves) who knew him, and for all others.
"Seabiscuit: An American Legend" by Laura Hillenbrand (Ballantine Books, 2001)
"Seabiscuit" is more than the story of two underdogs (the horse and the jockey) who made it big during America's greatest depression and two upstarts from the West who fought the Eastern establishment and won. To two economists it is also a story about an occupation that is among the most hazardous, a career that requires enormous skill, and a sport that was extremely risky. It is also about the industry of racing, the importance of handicapping, and a special teamwork among an oddly angled horse, a one-eyed jockey, a laconic trainer, and a blustery, bored owner. Most of all, it is about the horse – Seabiscuit – his amazing determination to win even when injured and his need for companionship from humans and animals (including a horse, a dog, and a monkey).
Svetlana Boym, Curt Hugo Reisinger Professor of Slavic Languages and Literature and professor of comparative literature, recommended:
Walter Benjamin, Selected Writings (Harvard University Press, 1999-2003)
This summer I finally bought all three volumes of Walter Benjamin's "Selected Writings," which contains much of his previously unpublished and untranslated works. While too voluminous to be carried to the beach, they offer us a rare insight into the laboratory of thinking of one of the most original critics of the 20th century. Volume II (1927-1934) contains much of Benjamin's winter and summer travels across interwar Europe, from Moscow to Marseilles. On first glance, the writer seems to take many detours, describing a toy museum in postrevolutionary Moscow, Hitler's "diminished masculinity" and fear of Charlie Chaplin, Mickey Mouse's mechanization, the conventionality of a gambler, the dullness of success. Yet through his piercing attentiveness and imaginative insight he manages to crystalize the invisible changes in 20th century life, uncannily foreseeing the future.
Benjamin's method, both oblique and lucid, is best formulated in the previously unpublished fragment "Short Shadows," which offers us a lovely summery landscape for meditation. "Short Shadows: Toward noon, shadows are no more than the sharp, black edges at the feet of things, preparing to retreat silently, unnoticed, into their burrow, their secret being. Then in its compressed, cowering fullness comes the hour of Zarathustra – the thinker in the noon of life, in the summer garden. For it is knowledge that gives things their sharpest outline, like the sun at its zenith."
In the fragment about the relationship between teaching and research, Benjamin advocates the reversal of the usual hierarchy; he believed that new "nonterritorialized" areas of research don't precede teaching but come out of it. Benjamin, of course, was hardly an exemplary academic. His brilliant dissertation was never accepted and he failed to receive an academic position in Germany, France, the Soviet Union, or the United States. But then again, as Benjamin reminds us in his short essay "Path to Success: in Thirteen Theses," success is only "a rendezvous; it is no small thing to be in the right time and at the right place."
Kathleen Coleman, professor of Latin, suggests:
This summer I have been transported back to central Africa, where I am from, by Alexander McCall Smith's series about Precious Ramotswe, who runs a detective agency in Gaberone. These are not conventional "crime novels"; the mysteries are really very easily solved by a keen observer of human nature, which is what Mma Ramotswe is. Rather, the central ingredient of the books is a quality not usually associated with "who-dun-its": charm. These stories are captivating because they bring Botswana to life.
Some of the chief characters are not people but places, or even pieces of machinery. Tlokweng Road Speedy Motors, run by Mma Ramotswe's friend, Mr. J. L. B. Matekoni (I am giving nothing away about the plot!), is a constant presence in the series – greasy, ramshackle, busy. So is the pump at the orphan farm, run by Mma Potokwane, who simultaneously harnesses Mr. J. L. B. Matekoni's mechanical expertise and his soft heart.
The real hero of the books is Botswana itself, semi-desert, poor, fiercely proud of the independence it gained under the leadership of Sir Seretse Khama in the 1960s. Precious Ramotswe is a staunch advocate of the old-fashioned Botswana morality that she learned from her beloved Daddy, Obed Ramotswe. Unobtrusively, McCall Smith makes us aware of the pressures of capitalism and the competitive Western ethic that is part of the legacy of colonialism. But there is nothing strident about these books. They will lift your spirit.
Alexander McCall Smith, "The No. 1 Ladies' Detective Agency" (1998), "Tears of the Giraffe" (2000), "Morality for Beautiful Girls" (2001), "The Kalahari Typing School for Men" (2002), all published in the United States by Pantheon Books.
Tom Everett, director of the Harvard University Band and associate of the Dept. of Music, recommends:
"Merchant Prince and Master Builder: Edgar J. Kaufmann and Frank Lloyd Wright," by Richard Cleary (Heinz Architectual Center, 1999).
Frank Lloyd Wright's 20th century architectual masterpiece, Fallingwater, has held a unique fascination for me. Cleary's text not only includes Wright's sketches and drawings for Fallingwater, but explores the personal relationship of Wright with patron, client, and friend Edgar J. Kaufmann. Fallingwater, Kaufmann's "county home" was only one of 12 projects on which the two men worked (only one other however, Kaufmann's private office in his Pittsburgh department store, was ever completed).
From the time of the groundbreaking of Fallingwater (1934) until Wright's death in 1959, the Kaufmann family encouraged and advised the artist by supporting his views on man and nature, financially underwriting projects, and promoting his – sometimes turbulent and chaotic – career. I found it intriguing that a successful coporate businessman had a significant influence and close interactive friendship with one of the century's most stubborn, independent, and original thinkers.
"The Soul of Rumi ( A New Collection Of Ecstatic Poems)," translated by Coleman Barks (Harper, 2001). The writtings of Jelaluddin Rumi, a 13th century Persian mystic and poet, were first introduced to me by my late colleague and friend, Ivan Tcherepnin.
I have read several other collections of his works, but found Barks' translation refreshingly acessible. The translater's personal comments, preceding groupings of poems, offer insightful introductions to Rumi's words.
Rumi investigates the world from inside feelings, and inner (often unconscious) questions of life and existence. Through stories and, at times, complex metaphors, Rumi may provide an allusive solution; other times leaves the reader to seek out an appropriate conclusion. He often leads the reader down an unfinished path … one that invites imagination and thought over time.
Emmanuel Akyeampong of the Department of History has some topical suggestions:
Paul Nugent's "Smugglers, Secessionists and Loyal Citizens on the Ghana-Togo Frontier" (James Currey, 2002) is brilliantly written, solidly researched, and replete with challenging insights. It tackles a subject of immense importance to colonial and postcolonial Africa: how Africans have dealt with their imposed colonial boundaries. Contrary to the expectation that colonial boundaries would be something border peoples would resist and sabotage, Nugent argues convincingly that borders gained saliency in the colonial and postcolonial periods because border peoples invested these boundaries with meanings that came to structure local and national identities, as well as economic life. Through detailed case studies of land disputes along and across the Ghana-Togo border, and the phenomenon of smuggling, the border comes alive as a zone of economic opportunity, as a line demarcating social and political life, and as a boundary nurtured and manipulated by local peoples in everyday life. Hence, calls by African intellectuals or statesmen, such as that by Wole Soyinka in 1994 for the redrawing of colonial boundaries, simplify the rather complex ways through which borders have been constructed. The failure of both Ewe Unification and Togoland Unification underscores this telling point.
Two other books I've read this summer are worth mentioning for their profound insights into the nature of disease epidemics in colonial Africa and the uneven development of human societies in world history.
Myron Echenberg's "Black Death, White Medicine: Bubonic Plague and the Politics of Health in Colonial Senegal, 1914-1945" (Heinemann, 2002) underscores how colonial rule and the revolution in maritime transport collapsed disease boundaries and opened the way for a new disease, bubonic plague, to devastate Senegal between 1914 and 1945. Importantly, it demonstrates that epidemics are constructed politically and are not just epidemiological events.
Jared Diamond's "Guns, Germs, and Steel: The Fates of Human Societies" (W.W. Norton, 1999), a work that has elicited much commentary among Africanists, had been on my reading list for three years! It was worth the wait. "Guns, Germs, and Steel" is a response to a question from a New Guinean local politician, Yali, Diamond encountered in 1972: "Why is it that you white people developed so much cargo [material wealth] and brought it to New Guinea, but we black people had little cargo of our own?" Diamond's answer, the thesis of his book, is not novel: Areas that pioneered food production (crops and animals) gained a head start in acquiring a suite of germs. Food production supported denser populations, promoted specialized crafts, and facilitated new technologies. This material base underpinned the emergence of writing and complex political systems. When maritime developments brought different continents together, conquests occurred as early sites of agriculture and sociopolitical development unleashed a deadly arsenal of germs, guns, and steel.
I liked the fact that this book chose 11000 B.C. as its starting point, when all peoples on all continents were hunter-gatherers – an even starting line. Diamond, a professor of physiology, uses science in a historical context that illuminates the processes of human development, not just rationalizes the contemporary state of affairs by reading back into history.
Bruce Jenkins, curator of the Harvard Film Archive, suggested the following:
In between stints this summer digesting measured chunks of Louis Menand's engaging but detail-laden "The Metaphysical Club" and its "story of ideas in America," I was consuming one tale at a time of Lewis Robinson's earthy volume of short fiction, "Officer Friendly and Other Stories." Like Menand's historical accounts, Robinson's tales have a distinctly Yankee setting, though we become immersed in blue-collar hamlets dotting coastal northern Maine rather than the tony terrains of mid-nineteenth-century Boston, Cambridge, and Concord. For a native Southerner, both volumes contained enlightening, often counterintuitive information as well as insight into the fundamental role of irony in the affairs of men, writ large in Menand, small in Robinson.
Menand lays out a number of record-correcting sub-themes in the course of his treatise on pragmatism that are especially intriguing. Perhaps the most enjoyable, if not the most significant, is revealed in the series of portraits of revered American scholars, scientists, and philosophers, who are shown to have been either abysmal students, craven opportunists, or social misfits, in addition to history-altering thinkers. Insecure undergraduates will certainly be inspired to learn that Charles Peirce was 79th in his class of 90 here at Harvard or that William James countered his famous indecisiveness with often disastrous doses of impulsivity.
Robinson performs a similar unmasking in his series of libidinous Maine tales, in which plaid-shirted rustics reveal distinctly more nuanced and human urges than the given stereotype would suggest.
Robinson's recurring protagonist is a youngish man of limited means who is nonetheless sufficiently self-aware to flesh out some of the emotional contours of his world. Robinson's characters have jobs and obligations and manage to find only temporary respite in their romantic intrigues. Robinson is adept in displaying unlikely liaisons – feisty high school hockey players in a performance of Oliver! or a pair of movie ushers who embark on a venture to catch sea urchin for the Japanese market. Through these experiences, life lessons emerge, often in consort with the rugged Maine coastline and inhospitable climate, as Robinson allows the significance of their impact to remain in doubt.