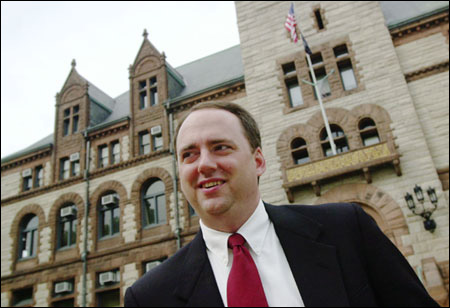 Tom Lucey, president and chief executive officer of the Cambridge Chamber of Commerce, has been appointed Harvard University's director of community relations for the city of Cambridge. Lucey will join Harvard's Office of Community Affairs staff on July 28.
Lucey comes to Harvard with experience in state government, the nonprofit world, and the private sector, and has worked with issues ranging from better health care and advancement of education to housing and economic development.
"We are extremely pleased to have Tom join our team," said Mary Power, senior director of Community Affairs at Harvard. "His deep knowledge of the city of Cambridge and ability to bring people together will serve both the University and community as we strengthen relations."
In his new role, Lucey will work with Cambridge city officials, residents, and local organizations to help facilitate communication and understanding about university planning and development activities and to identify ways that the University, the city, and neighborhood residents and groups can work together.
"Over the last decade, I have learned a lot about the needs and concerns of the city of Cambridge and during that time it has become clear that Harvard can be a strong partner in the issues that Cambridge faces," said Lucey. "I look forward to working with the city and community leaders to build new ways to collaborate."
"Tom is very experienced in our community, he listens carefully to the concerns of others, and he is very fair-minded. He's a very welcome addition to our team " said Vice President for Government, Community and Public Affairs Alan J. Stone.
For the past three years as president and chief executive officer of the Cambridge Chamber of Commerce, Lucey has directed and managed the chamber's activities, acted as liaison between the chamber's 1,400 businesses and city and state government, and helped encourage tourism, corporate philanthropy, and volunteerism. He served as director of government and community affairs for the chamber before assuming the role of director of government and community relations for Forest City Enterprises, a real estate firm that developed University Park near the Massachusetts Institute of Technology. As director of legislative affairs to House Majority Leader Richard A. Voke, Lucey advocated for state support of Healthy Start and Head Start, two public service initiatives.
Lucey is a graduate of Bentley College. He and his wife, Teresa, have two children, Thomas and Olivia.