Harvard President Lawrence H. Summers joined city of Boston Mayor Thomas M. Menino at the Carter Playground in Boston's South End July 9 to celebrate Harvard's contribution of $475,000 to the city's summer programs and jobs for youth. Program grant recipients
• Commonwealth Tenants Association
• Connect 5
• Dana-Farber Cancer Institute
• Jackson/Mann Community Center
• Mission Main Resident Services
• Museum of Fine Arts
• New England Aquarium
• Phillips Brooks House Association
• Roxbury Tenants of Harvard
• St. Anthony's School
• South Cove Community Health Center
• Tenacity
• West End House Boys and Girls Club
• YMCA of Greater Boston's Central Branch
• YMCA of Greater Boston's Oak Square Branch: Camp Connolly and Gardner Extended Services School Summer Program
Standing on the tennis courts that are the summer home to Tenacity, a tennis and reading program for city youth, Summers and Menino addressed community leaders and young tennis players, announcing Harvard's contribution of $250,000 to the Boston Youth Fund and $225,000 in Harvard After School Initiative (HASI) Summer Program Grants to 16 community organizations, including Tenacity.
"It is our hope that with this contribution we are doing our part and being an example to others in the cooperative citizenship that is so important to bringing this city forward," said Summers.
An avid tennis player who dressed for action in Harvard tennis team warm-ups, Summers briefly talked tennis with the young athletes.
"I hope that 10 years from now, some people who are sitting right here are going to be studying at Harvard and are going to be on the Harvard tennis team," he said.
Citing the importance of summer jobs for city youth, 25 percent of whom use their earnings to help support their families, Menino thanked Harvard for its generosity.
"You are making a real difference for countless young people and their families within the city of Boston," he said. "Working together, we can accomplish a lot."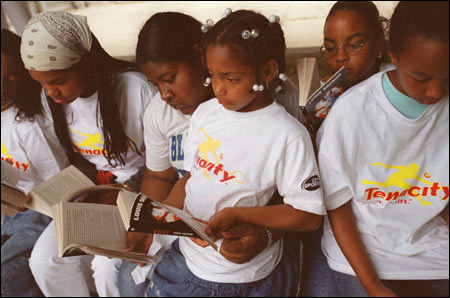 Harvard's contribution will fund 240 summer jobs and help support summertime programs serving 4,300 Boston young people. For Tenacity, which operates 20 neighborhood sites, the HASI Summer Program Grant has boosted the organization's services to youth in the Mission Hill neighborhood, said Tenacity President Ned Eames.
Embracing the spirit of Tenacity, which pairs tennis training with reading and life skills, Summers and Menino read aloud to Tenacity youth from the book "Holes," by Louis Sachar.
Summers then took on two Tenacity students, Yamira Lacey and Roland Abichaker, in a spirited match, his daughter Ruth rounding out the set of doubles.