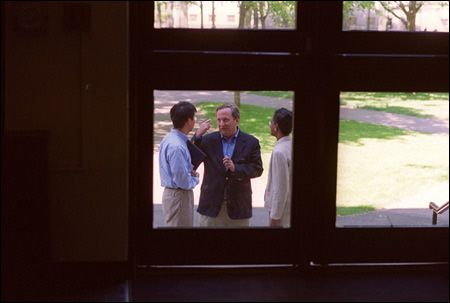 In 1996, when he was deputy secretary of the treasury, Lawrence H. Summers received a cell phone call from his boss, Robert Rubin.
Nothing unusual in that, except that at the time Summers was on an outrigger canoe returning from a visit to a remote village in Côte d'Ivoire, Africa, at which he had dedicated the community's first electrically powered well.
President Summers told that story in a talk July 2 to students at Harvard Summer School. Speaking to the mostly young and mostly international audience, he said that his experience highlighted four important trends taking place in the 21st century.
"First, there's the tremendous difference technology and science are making in the way we all live."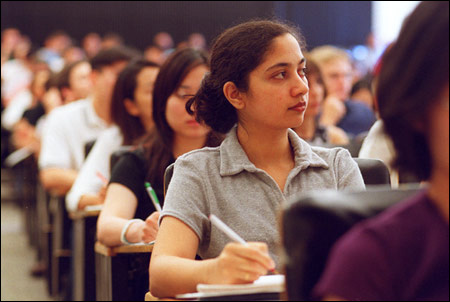 Information technology has advanced so quickly that cars manufactured in 2003 have more computing power than the Apollo 13 spacecraft. But the impact of computer technology pales in comparison with that of the life sciences. Summers predicted that in 10 years a simple blood test will reveal how long a person is likely to live, a development sure to have profound implications for the life insurance and health insurance fields as well as the way in which people make basic life decisions.
The second lesson Summers took from his African cell phone experience was the extent to which the industrialized world and the developing world are converging, an encounter that may have a beneficial impact on the quality of life worldwide although it may not always go smoothly.
"If this plays out in a way that will bring about rising standards of living, the event will rank with the Renaissance and the industrial revolution in the profound consequences it will have for human betterment."
But, he cautioned, if you consider such things as AIDS, the Asian financial crisis, Iraq, terrorism, global warming, and nuclear proliferation, "there is no guarantee that this coming together will be a benign, successful, and opportunity-creating process."
Third on Summers' list of insights was that the economy of the 21st century will be different from that of the 20th century, underlined by the fact that the organization that set up the cell phone service in that remote corner of Africa was not a government agency but a private, entrepreneurial company.
Organizations with hierarchical chains of command and fixed plans of operation typified the 20th century, Summers said. The new organizational model will be a nonhierarchical partnership-based structure, something like Harvard.
"What's special about Harvard is that it's a place where a young student can prove that a professor's argument is wrong, and everyone thinks that a great and happy thing has happened, and often the first person to congratulate the student is the professor."
Finally, the event emphasized for Summers that education will be more important in the future than ever before. He stressed his conviction that even more important than learning facts or theory is developing "an active and enlightened curiosity, a belief that the world can be understood and can be made better."
Along with these intellectual accomplishments, students need to develop values and character, he added.
"Your generation will answer the question whether science, technology, and globalization make the world a better place, or whether it will turn out to be terribly dangerous. This will depend not just on how smart you are but on how wise you are. I'm convinced that education is the ultimate act of faith in the future. When I see so many individuals coming together with so many different interests, I see that future."