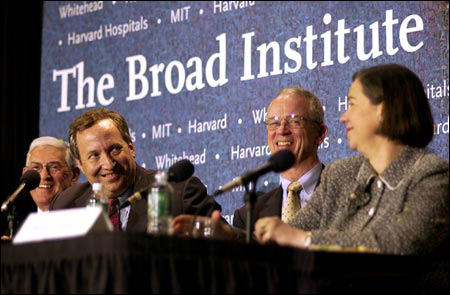 Harvard announced in June that it will embark on a major new collaboration with the Massachusetts Institute of Technology (M.I.T.), the Whitehead Institute for Biomedical Research (WIBR), and several Harvard-affiliated hospitals, intended to bring the power of genomics to bear on the understanding of disease and to accelerate the search for cures.
The collaboration will be known as the Broad Institute, named for lead donors Eli and Edythe Broad, who have pledged $100 million over 10 years to support the institute's work. The institute will be directed by Eric Lander, a member of the faculty of M.I.T. and the Whitehead Institute, who is expected also to become a member of the Harvard Medical School faculty later this year. The Broad Institute, with M.I.T. and Harvard working together, plans to raise up to $200 million in private support for its research programs over the next decade.
"This is a great collaboration between outstanding institutions, between scientific disciplines, between basic and applied research, toward a great objective – using our understanding of the human genome to comprehend and help cure human disease," said President Lawrence H. Summers. "Harvard is deeply grateful to Eli and Edythe Broad and to all our partners in this important venture."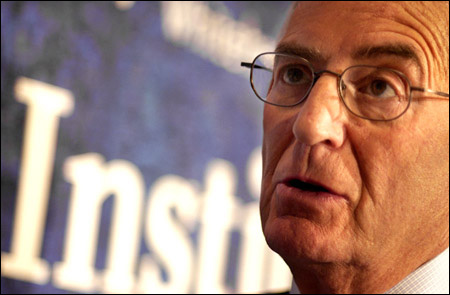 In addition to Lander, the Broad Institute's original core faculty will include:
Stuart Schreiber, the Morris Loeb Professor of Chemistry in Harvard's Faculty of Arts and Sciences and an investigator of the Howard Hughes Medical Institute, who is a leader in chemical genomics;
David Altshuler, assistant professor of genetics at Harvard Medical School and Massachusetts General Hospital, and director of the medical and population genetics program at the Whitehead Institute/M.I.T. Center for Genome Research, who is a leader in the search for the genetic causes of diabetes; and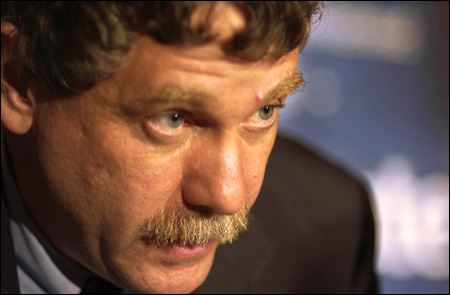 Todd Golub, associate professor of pediatrics at the Harvard Medical School and the Dana-Farber Cancer Institute, associate investigator of the Howard Hughes Medical Institute, and director of the cancer genomics program at Whitehead Institute/M.I.T. Center for Genome Research, who is a leader in using DNA chips to diagnose cancers.
It is envisioned that the Broad Institute will eventually have a full complement of 12 core faculty members, half from Harvard and the affiliated hospitals and half from M.I.T. and the WIBR, as well as additional faculty associates.
"The creation of the Broad Institute builds on the increasingly numerous and successful interdisciplinary and interinstitutional collaborations in our community," said Joseph B. Martin, dean of Harvard Medical School. "It is this type of synergy among our various faculty that will accelerate the transition of the genomic revolution into medical practice."