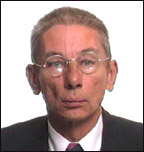 Tony Lee, 60, of Brookline, died May 20, at Brigham and Women's Hospital after a short illness. He was born on Feb. 18, 1943, in Liverpool, England, the son of Nora (Irwin) and Wilfred Lee. He attended the Quarry Bank School and subsequently studied modern languages at Gonville and Caius College, Cambridge University, from which he graduated in 1964.
Tony married Anne Thompson on Aug. 8, 1964, in Maine and taught at Clifton College in Bristol, England, for a year thereafter. They moved permanently to the United States in 1965. They had two daughters, Clarissa and Samantha. He and his first wife were divorced in 1968. On April 2, 1971, he married Tanya Hayes in Cambridge and had another daughter, Natasha. They were divorced in 1976. Tony was an avid collector of pottery and books, and a lover of books and music generally.
Tony Lee became a senior research administrator at Harvard University in 1998. In 2000, he was promoted to associate director for postaward within the Office for Sponsored Research. In this capacity, Lee oversaw postaward management of the University's sponsored research funding, totaling more than $500 million in 2002. He received the prestigious Harvard Hero Award in 2000.
He is survived by his three daughters, Clarissa Thompson and her husband Raymond Vought of Boulder, Colo.; Samantha Goodwin and her husband Ralph of Weymouth; and Natasha Ondzes and her husband David of Bedford, N.H.; and his five grandchildren. Also a brother, Sheridan, his wife Chris, and two nephews.
A memorial service will be held on June 27 at Sanders Hall, 45 Quincy St., Cambridge, from 1 to 4 p.m. Memorial donations may be made to The Lowe Center for Thoracic Oncology, c/o Michael Rabin, M.D., D1234, Dana Farber Cancer Institute, 44 Binney St., Boston, MA 02115.