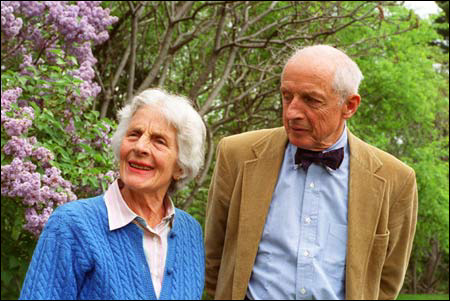 Albert W. '43 and Katharine E. Merck, enthusiastic advocates for excellence in public and private education, have given $15 million to Harvard to strengthen teacher training and instructional technology. With gifts to the Graduate School of Education (GSE) and the Faculty of Arts and Sciences (FAS), the Mercks will enable the University to share its pedagogical research with teachers of students of all ages around the world, and help improve the quality of undergraduate instruction in Harvard College.
"Improving undergraduate education at Harvard is one of our highest priorities, and improving education of young people everywhere must be one of society's foremost ambitions," said President Lawrence H. Summers. "We very much appreciate Al and Kate's commitment to both of these goals.
"From a philanthropic point of view, the Mercks have set a remarkable example," continued Summers. "Through their giving, they've demonstrated a dedication to public service – which the teaching profession embodies – and a willingness to act as University citizens by making gifts to both the School from which Al graduated – Harvard College – and another very important part of the University. I am personally very grateful to them."
'There is great momentum and energy at the top levels of the University to improve teaching, and President Summers and Dean Kirby have put undergraduate education at the top of their agenda.'
– Albert Merck '43
At the GSE, the Mercks' gift will support instructional and technological programs such as online professional development courses for teachers. "With the convergence of classroom learning and technology, graduates of the Ed School and teachers in the field must be fully prepared to leverage technology to reach their own students and increase the number of students they can instruct," said Ellen Condliffe Lagemann, dean of the Graduate School of Education. "Our faculty members are researching the impact of technology and creating ever more sophisticated ways of using it for the benefit of students. Al and Kate's partnership with the Graduate School of Education, and the generosity of their gifts, will serve to advance students for generations to come."
Among the GSE's programs that will benefit from the Mercks' generosity is WIDE World, an interactive online professional development program, offering personalized courses on the Web for K-12 teachers and administrators and other educators around the globe. WIDE World was jointly developed by the GSE's Educational Technology Center and Project Zero, which aims to enhance teaching and learning for individuals and institutional groups. During the past three years, WIDE World courses attracted 1,268 participants from 64 countries.
"The promise of better teachers is realizable only if we reach very large numbers and make this kind of instruction economically available to them," said Albert Merck. "Harvard is immensely rich in intellectual resources, but these resources reach a relatively small number of people. Harvard should make what it has available to as many people as possible, by offering courses that are financially self-sustaining and that have the potential to contribute a stream of revenue to the University."
In the Faculty of Arts and Sciences, the Mercks' gift will support the activities of the Derek Bok Center for Teaching and Learning. The Bok Center, established to improve the quality of instruction in Harvard College courses, provides programs that help faculty members and teaching fellows become better teachers, and help them better understand the aims and needs of student learners.
The Bok Center was conceived in 1976 when Harvard President Derek Bok set out to ensure that Harvard emphasized teaching in addition to research. It is a significant resource for Harvard professors and teaching fellows, who use its services to improve their lecturing, course organization, and management. Bok Center consultants work directly with faculty to help them define and achieve their instructional goals, bringing their own experience as teachers in the disciplines to bear on this collaborative effort.
"The Merck gift will help faculty share their reflections on successful classroom practice in order to collectively improve the quality of teaching at Harvard," said James Wilkinson, director of the Bok Center. "This partnership will help issues surrounding pedagogy become a more central part of the conversation among those offering instruction in the FAS."
"There is great momentum and energy at the top levels of the University to improve teaching, and President Summers and Dean Kirby have put undergraduate education at the top of their agenda," said Albert Merck. "Jim Wilkinson is enthusiastic about effecting the kinds of changes that make a big difference to students and faculty."
"Given the quality of students that Harvard attracts, nothing could be more important than ensuring that the level of instruction they receive is of the utmost quality," said William C. Kirby, dean of the Faculty of Arts and Sciences. "The Bok Center is dedicated to that goal, as am I."
The Mercks' devotion to teaching reaches beyond Harvard, as the pair have long been dedicated to the advancement of numerous schools and universities. Albert Merck began his early career at Merck & Co., the highly successful pharmaceutical company founded by his family in 1891. While serving on the company's board of directors, he began to pursue interests in education, earning master's degrees from Columbia University Teachers College and Rutgers University in the 1960s. He was elected to the New Jersey legislature as Republican representative for Morris County in the early 1970s, and served as the chair of the New Jersey State Board of Higher Education.
Albert Merck knows the territory of the classroom well; he spent several years teaching political science at Rutgers and Drew universities. He has been a trustee of the Bonnie Brae School for Boys, Newark State College (now Kean College), Westminster Choir College, Drew University, and St. George's School. The Mercks have also been generous supporters of Katharine Merck's alma mater, Bennington College.
Earlier this year, Summers changed the University gift crediting policies to enable alumni of Harvard College, Harvard Law School, and Harvard Business School to receive class credit for gifts that raise funds for universitywide objectives, such as increasing support for financial aid, research, and teaching in public service fields. Thanks to these policy changes, the Mercks' gifts will benefit more than just the undergraduates at Harvard College, the faculty and students at the GSE, and students across the world who participate in GSE programs. They will also benefit the Class of 1943, which will receive credit for a portion of the Mercks' gifts to the GSE as part of the class total for its 60th reunion.