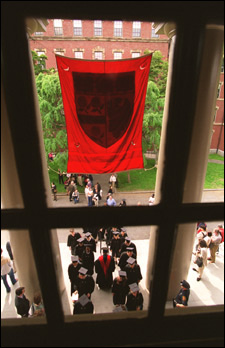 Harvard President Lawrence H. Summers urged the rushed, overscheduled Class of 2003 to know their priorities, to know that time is precious, and to keep the daily rush of temporarily urgent tasks from crowding out what's truly and enduringly important in life.
Summers, delivering the annual Baccalaureate address Tuesday (June 3) in Harvard's Memorial Church, said he knows Harvard's seniors will be diligent at work and will likely also dutifully schedule time for recreation. But he cautioned that fitting life into rigid schedules can take away the opportunities for spontaneous happenings that often make up our most cherished memories.
"Stolen time is often better than 'quality' time," Summers said. "The best photographs are not posed, but candid, and the best moments are not planned, just experienced. Plan for there to be times without a plan."
Summers was not advocating a life of leisure, however. Instead, he was advising them to choose carefully what they spend their time on, and to re-evaluate those choices regularly. Summers was speaking from experience, "as someone chronically overscheduled, someone for whom being early is far more novel than being late … and someone who believes that if you never miss a plane, you are spending too much time in airports."
The Baccalaureate Service is a somewhat private ceremony where graduating seniors hear a farewell address from Harvard's president before the more public celebration of the days to come. Though no family members were allowed inside the Memorial Church, the service was piped to speakers outside to those sitting in Tercentenary Theatre.
Seniors lined up in Harvard Yard, in front of Holworthy and Stoughton halls, about 20 minutes before the 4 p.m. service. Led by Summers and the Rev. Peter J. Gomes, Plummer Professor of Christian Morals and the Pusey Minister in the Memorial Church, they marched by University Hall, doffing their hats to the John Harvard Statue, before heading into Tercentenary Theatre, past gathered family and friends, and up the steps into the Memorial Church.
The Baccalaureate Service is almost as old as Harvard itself. It was part of Harvard's first Commencement in 1642. The 2003 version reflected the diversity of Harvard's student body, featuring readings from four holy texts: the Hebrew Bible, Hindu Scripture, The Holy Quran, and the New Testament. The service also included hymns and prayers offered by Harvard clergy.
"This ceremony is almost as old as Commencement itself, and without it, Commencement could not properly begin," Gomes said as he opened the service. "This is the beginning of the end of this phase of your Harvard experience."
Summers kept a light tone throughout the speech, joking that this is a time when students traditionally ponder such weighty questions as what they'll do with the rest of their lives, how can they use their education to make a difference, and whether their cap and gown makes them look fat.
His broader message about managing life's priorities resonated clearly with students.
"I think he hit it pretty much on the dot," said Joyce Demonteverde. "[Time] is something Harvard students have to juggle every day."
Susan Brunka said the service was beautiful and inclusive. She said she enjoyed that the traditions of so many religions were represented. She also said Summers' message hit home.
"I think everyone sitting in the hall today could relate to what he was saying," Brunka said. "Multitasking is an understatement for the average Harvard student."