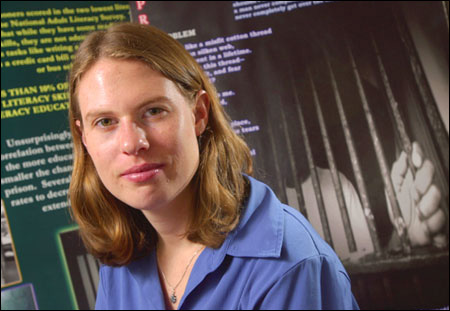 Janel Reppert Rice makes sure to warn volunteers for the Prison Education Project of Harvard University that prison is "not a consumer-friendly place."
As founder of the program, Rice, who is graduating with a master of divinity (M. Div.) degree from Harvard Divinity School (HDS) today, knows of what she speaks. She has mentored and visited prisoners herself and quickly learned that when dealing with the prison system, "there's a certain chaos involved." "You're not going to be accommodated," she explained, "even if you're from Harvard University."
Although Rice says that when she came to the Divinity School, she never intended to do prison work, she was introduced to it by the minister at her first field-education site, Clarendon Hill Presbyterian Church in Somerville, and found she really liked it. Rice and other congregants at the church became involved with Partakers Inc., a faith-based nonprofit organization based in Dedham that strives for "reconciliation between prisoners and society," partly through its College Beyond Bars Program. Rice was so affected by this volunteer work she decided to spend the second year of her field education with Partakers and its dynamic leader, Jeannette Hanlon.
Partakers had started the College Beyond Bars (CBB) program in 2000 to "give families, congregations, and other groups the opportunity to provide financial, emotional, and educational support to prisoner scholars earning college degrees." Partly due to CBB, Boston University's Prisoner Education Program was able to remain one of the few surviving programs of its kind nationwide. (In 1990, there were 350 prison college education programs in this country; by 2002, there were only seven.)
As she was working with Partakers, Rice took Lecturer in Public Policy Marshall Ganz's class on community organizing at the Kennedy School of Government, where she was given the assignment to do a concrete organizing project. "I decided to start a College Beyond Bars program here at Harvard, to try and get students and not just churches to be sponsors of prisoners," Rice said.
She started off with a handful of volunteers and two prisoners, but over two years she built the program to 17 student volunteers sponsoring five prisoners. Rice has also helped garner grants from the Memorial Church and an Episcopal Prison Ministry in Boston to provide the necessary financial support. She has even organized forums, speakers, and films to educate the Harvard community about prison issues.
"Right now, Harvard students are sponsoring four men at Norfolk Prison and one woman at Framingham Women's Prison," Rice said. "We form groups of three to four students per prisoner, with each student committed to visiting once a month and writing occasional letters. The students stand by the prisoners as they go through the process of getting nine correspondence course credits, applying to B.U., and then going through the B.U. program." More than half of the volunteers have come from the Divinity School, but have also included Ed School students, and Harvard undergraduate and graduate students.
Rice says she has found the Partakers' work with two prisoners who graduated the B.U. program especially exciting, because you can "see the success stories coming out." She explained further: "Recidivism rates have been shown to drop from about 50 percent to as low as zero to 10 percent for people with college educations, and yet federal Pell grants were cut for prisoners in 1995, which led to the gutting of education programs for prisoners."
"I'm in no way a prison abolitionist," Rice added, "but current sentencing laws and structures, and the mentality of 'getting tough on crime,' just don't solve the problem. I watch 5-year-olds come into the visiting room to visit their mothers in prison, and I see the way the cycle is being extended rather than broken. We need to find alternative ways to help prisoners and reduce their rate of recidivism, and education is one of the proven ways to do this."
Although Rice says she has been moved to act by U.S. criminal justice system statistics, including the highest rate of incarceration in the world and yet a staggeringly low percentage of prisoners receiving rehabilitative programming, the impetus for doing this kind of work comes above all from her faith perspective.
A native of Nazareth, Penn., Rice was raised in the Moravian Church and is on the ordination track to become a Moravian minister. "As someone who is called to do Christian ministry, this work really connects for me what a 'child of God' is," Rice said. "I believe that every human being is worthwhile, so when I see the tragedy of our prisoners and how little they are provided, I realize these are human lives that need help and rehabilitation."
Rice says she's come to see that the prison project helps not only the prisoners, but the student volunteers. "The prisoners change though the mentoring they receive, but the students themselves change just as much in terms of their perceptions of prisoners. They are able to get beyond 'what's he in for' and see the humanity in each person."
Rice must spend a year at the Moravian Theological Seminary in Bethlehem to be ordained, which she plans to do after a year's break. She will remain in Boston next year and work two part-time jobs while her husband takes his general exams for a Th.D. degree from HDS.
One of Rice's jobs this year will be at Partakers, where she will do staff work, grantwriting, and volunteer recruiting. She explicitly requested Partakers Web site be included in this story because "the program needs more volunteers – students, faculty, and staff – and support."
Rice intends to head into urban parish ministry, especially since "prison ministry isn't exactly an employable field at the moment," but she says she will continue to advocate for education and other programs for prisoners.
She credits HDS professors such as Paul Hanson, Harvey Cox, and François Bovon with helping her to connect her Christian call with the prison issue, and says she is equally grateful to the prisoners for what they have taught her. "It's like when you have a stereotype about someone, but then you talk to that person and realize how untrue it is and you feel a grateful amazement," she said. "I feel that grateful amazement on a large scale."